Princess Diana Biopic Gets A Title Change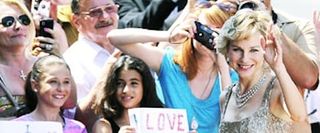 It probably goes without saying that the title of a film can be crucial to grabbing people's attention. I'm still not sold on the idea that Jack Reacher is a better title for the upcoming Christopher McQuarrie-directed, Tom Cruise-starring action film than One Shot was. The original title sold action, while the new one sells the character. Jack Reacher will likely draw the attention of the many readers familiar with Lee Childs' novels and the lead character on which Cruise' role is based, to those of us who haven't read the books, it's a man's name. It's entirely possible that I'm underestimating the popularity of the character, just as it is possible that we'll appreciate the title much more once the character is better established in the film. Time will tell.
What's in a name? A lot, if that name is well known, and it seems likely that the name "Diana" is most associated with a certain princess whose life ended in a tragic car accident during the latter part of last century. Oliver Hirschbiegel's upcoming film, which aims to be a love story about Princess Diana's relationship with heart surgeon Dr. Hasnat Khan, is looking to make better use of that name in its title. Just as Jack Reacher did earlier this year, Princess Diana's biopic is getting a title change. The Hollywood Reporter posted the news today that the biopic's title is changing from Caught in Flight to simply Diana.
The newly re-titled film is now in production and will star Naomi Watts in the title role, with Naveen Andrews, Douglas Hodge and Juliet Stevenson also among the cast. Just this week, we got our first look at Watts in character. She certainly has the hair down, but I'll be more interested in seeing how she portrays the beloved Princess for the film. As for the title change, while Diana may not be as dramatic sounding as Caught in Flight, it's certainly a more direct approach to grabbing people's attention.