Prometheus Sequel Still On Track, Brings In Transcendence Screenwriter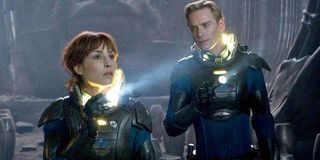 Last year Ridley Scott's return to the Alien franchise with Prometheus was hotly anticipated. But once fanboys and critics finally saw what Scott had in store with his big budget prequel, the film proved to be pretty polarizing, with some calling it a total disaster of plot holes and fan service, and others proclaiming it a misunderstood masterpiece. Nonetheless, the $130 million dollar production managed to pull in an impressive $403 million worldwide, paving the way for a possible sequel.
By the end of last summer, Fox was urging Scott to consider the follow-up the film's final scene sets up so nicely. But rather than have Prometheus scribes Jon Spaihts and Damon Lindelof return to draft part two, Scott and Fox are looking elsewhere. The Wrap reports the filmmakers are circling Jack Paglen, a relative newcomer whose only screenwriting credit to date is Transcendence. But considering that is the directorial debut of Chris Nolan's long-time director of photography Wally Pfister, it's a hell of a thing to have on your résumé. That sci-fi drama has already attracted such eye-catching talent as Johnny Depp, Paul Bettany, Cillian Murphy, and Morgan Freeman. With an anticipated release date of April 18th, 2014, Transcendence could spark a fandom for Paglen that would play well for Prometheus 2.
However, while Scott has reportedly signed on to Paglen's pitch for the sequel, Paglen has yet to commit to the project. But final negotiations are going on now, and even with Prometheus's checkered reputation, Paglen would be mildly insane to turn down a chance to work with the sci-fi movie master. So this is all but a done deal.
But why weren't Spaiht and Lindelof invited back? Spaiht had penned the original script for Prometheus, which was meant to tie directly into the setup for Alien. But Fox is said to have pushed for an ending that would have allowed for a potential Prometheus sequel. Enter Lindelof, who would not only do the rewrite but be blamed by fanboys everywhere for every choice they didn't like. We don't know for certain why Spaiht hasn't returned, but Lindelof confessed his reason was two-fold. One: he didn't want to commit the time to writing a sequel. But two (and more importantly) he wasn't asked.
The next question of course is where Prometheus 2 will go with the story of archaeologist Elizabeth Shaw (Noomi Rapace) and her plucky, sometimes-homicidal android friend David (Michael Fassbender). At Prometheus's end, the pair were planning to continue Elizabeth's search for answers to the creation of men by the Engineers. Will they find them? Will they reveal the why of man's existence? Will the killer creature Elizabeth accidentally created catch up with them? We'll find out (or not) when Prometheus 2 makes its debut. But that is still a ways off. For now, Rapace and Fassbender are attached to reprise their roles, and a buzzed about screenwriter is thisclose to taking on the daunting task of continuing this tale.
Your Daily Blend of Entertainment News
Staff writer at CinemaBlend.