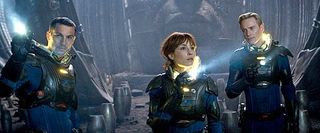 Leading into summer, there were plenty of reasons Ridley Scott's Prometheus seemed like a major risk for Fox. First off, no matter how many times the film's director insisted it was not a prequel to Alien, but rather a movie that exists within the same fictional universe, Prometheus was proclaimed a prequel and so drew the premature ire of many Alien fans. Secondly, while it has a cast of international stars, its headliner Noomi Rapace is by no means an established domestic box office draw. Then there's the film's hefty budget of $130 million, made all the more risky by the film's hard-R rating that cuts out the lucrative teen/tween market. There were so many reasons Prometheus could flop at the box office, but critical praise and good word of mouth won the day, the film earning $303 million worldwide to date, making it just profitable enough for Fox to consider a sequel.
THR reports the studio has now committed to developing a sequel with Scott, they and are "actively pushing ahead." As Michael Fassbender and Noomi Rapace are already committed to star, the untitled sequel would presumably follow archaeologist turned alien-creator Elizabeth Shaw and her less-than-trusty companion David The Decapitated Android on their quest to track down the Engineers native planet. It's a premise ripe with possibility, but currently unwritten.
Prometheus was penned by Lost co-creator Damon Lindelof and lesser known scribe Jon Spaihts of The Darkest Hour, but Fox is reportedly talking to new writers for the sequel. It's said Lindelof may be too busy to take on the task, but no mention is made of Spaihts. Still, updates on its screenwriter(s) should come soon as the sequel's projected release date could be as soon as 2014.
Your Daily Blend of Entertainment News
Staff writer at CinemaBlend.