The Dark Knight: 14 Fascinating Behind-The-Scenes Facts About The Batman Movie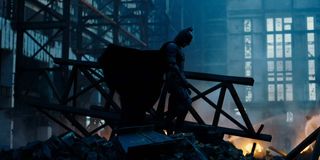 The comic book movie genre was never the same after, or at least had never been taking so seriously before, the release of The Dark Knight. That is a common opinion few Batman fans would argue against, but to claim they know all behind-the-scenes facts regarding the groundbreaking blockbuster is something else entirely.
Writer and director Christopher Nolan's 2008 follow-up to Batman Begins, his revitalization of the DC hero's franchise, is applauded for its breathtaking stunts, record-breaking box office returns, and, especially, Heath Ledger's spellbinding performance as The Joker, for which he posthumously received an Academy Award for Best Supporting Actor. For these reasons, and more, The Dark Knight is still widely considered to be the greatest superhero movie ever made even more than a decade after its release.
Despite all of its praise, influence on modern cinema, and distinguished iconography, the film is not without its mysteries and even a few misconceptions. You can either die believing you are an expert or live long enough to learn the truth about The Dark Knight with these 14 revealing facts you deserve to know, but did realize you needed.
Six Scenes In The Dark Knight Were Shot With IMAX Cameras
IMAX cinema was certainly not a novel idea at the time The Dark Knight was being made, but the film is a revolutionary landmark for the much-lauded technique. While the majority of it was filmed in more typical 65mm, six key sequences were shot with 15/70 IMAX cameras (including the opening bank heist and the armored car chase), totaling 28 minutes of runtime, which was a first for a major Hollywood feature and is still a rarity today.
A Real Stunt Driver Was Used In The Dark Knight's Semi Truck Flip
Among The Dark Knight's many achievements, especially on the technical side, perhaps the most astonishing is that no fatalities occurred while filming the shot of a semi truck flipping over at the center of a pivotal chase sequence. Not only was the famous stunt done with little to no CGI trickery (save the removal of the ram to initiate the trailer flip, according to director of photography Wally Pfister), but there was actually a man named Jim Wilkey driving the truck when they shot it, which has to be the most unbelievable fact about it.
The Dark Knight's Production Codename Was Rory's First Kiss
Many films, especially major studio releases in particular, will use a certain false name instead of its actual title to keep things at a low profile while filming. The Chicago production of The Dark Knight was given the codename Rory's First Kiss, a reference to director Christopher Nolan's son of the same name.
Hans Zimmer Experimented With Razors On Piano Wire For His Portion Of The Dark Knight Score
To dial back to The Dark Knight's technical achievements, among its eight Academy Award nominations, the score, a collaborative effort between illustrious composers James Newton Howard and Hans Zimmer, surprisingly, was disqualified from receiving a nod, reportedly for having too many people involved in its creation. However, I would not be surprised if the real reason for the snub was that Zimmer's maddening musical interpretation of the Joker's chaotic psyche (achieved from experimentation with tenuous high notes and rubbing razor blades against piano wire, among other "unique" ideas) drove Academy voters just as insane as it did Christopher Nolan, but more admirably in the director's case, of course.
Heath Ledger Kept An Intricately Detailed Log Of His Preparation To Play The Joker
Heath Ledger famously utilized experimental methods himself to prepare for his role in The Dark Knight, going as far as locking himself in motel room for six weeks in order to tap into the mind of an individual as imbalanced as The Joker. The Australian actor also kept a diary of all of his influences, which his father, Kim, is seen browsing through in the docuseries Too Young to Die, revealing handwritten notes and clipped out photographs of clowns, hyenas, and Malcolm McDowell in A Clockwork Orange to name a few.
Joker's Lip Licking Was Added To Keep Heath Ledger's Prosthetic From Falling Off
However, not every aspect of Heath Ledger's portrayal of The Joker was pre-meditated, such as one happy accident, of sorts, that became highly recognizable characteristic of the performance. In the 2017 documentary I Am Heath Ledger, Gerry Grennell, the actor's dialect coach for The Dark Knight and other projects, reveals that Joker's frequent licking of his lips is actually Ledger's way of preventing his facial prosthetic from falling from his mouth.
Michael Caine Was So Frightened By Heath Ledger, He Forgot His Dialogue
Another accident from the set of The Dark Knight that we can be thankful occurs when The Joker and his henchman crash a party at Bruce Wayne's (Christian Bale) penthouse, which apparently, was intended to feature more dialogue from Alfred Pennyworth. Michael Caine, who plays the longtime servant of the Wayne Family, revealed in 2007, while promoting the movie Sleuth, that he had no idea what Heath Ledger was going to look like in full costume and when he finally did during rehearsal of said scene, he was so terrified that he "forgot every line."
Contrary To Popular Belief, Heath Ledger's Pause During The Hospital Explosion Was Planned
Probably the most famous "happy accident" from the set of The Dark Knight is how Heath Ledger stayed in character when an explosive at the hospital failed to go off on cue, but, in reality, that scene went just as intended. As a report by ScreenRant reveals, the misfire and Joker's comical reaction was planned to safely get a practical shot of Ledger walking out of the hospital and not a masterstroke of improvisation as many believe. However, Joker's creepy applause after Jim Gordon (Gary Oldman) is made Commissioner was not in the script, so we can credit that, at least, to the actor's unpredictable commitment to the role.
Heath Ledger Had Once Been Considered To Lead Batman Begins
In an alternate reality, we might have seen Heath Ledger play the hero instead, as Christopher Nolan shared during a 2012 Q&A at the Lincoln Center Theater in New York. Before Christian Bale was ultimately cast, the filmmaker had met with Ledger to discuss the title role of Batman Begins, to which the actor said,"I would never take a part in a superhero film." Apparently, he ended up really liking the 2005 film and immediately jumped at the chance of playing Joker in The Dark Knight before the script had even been written.
Heath Ledger Pushed Christian Bale Into Really Hitting Him For The Interrogation Scene
While he might have "missed out" on playing Batman, Heath Ledger still got to have some influence on Christian Bale's performance in The Dark Knight. In an interview with The Hollywood Reporter, Bale recalled filming the iconic interrogation scene (his first with Ledger) and why the Caped Crusader's assault on The Joker looks so convincing, explaining:
Robert Kennedy Inspired Aaron Eckhart's Harvey Dent Portrayal In The Dark Knight
To prepare for a comic book movie role, most actors might just settle for reading the source material, but to play District Attorney Harvey Dent, Aaron Eckhart looked to history for inspiration. The Golden Globe nominee spoke to ABC News about how he compared his The Dark Knight character to Robert Kennedy Jr., another public figure who was "idealistic, held a grudge and took on the Mob." Of course, unlike the real-life politician, Dent would eventually become the maniacal Two-Face.
The Secret Behind Bruce Wayne's Lamborghini In The Dark Knight
In a funny scene from The Dark Knight, an exchange over what vehicle Bruce Wayne should take to the recently threatened hospital convinces Alfred Pennyworth that his Lamborghini Murciélago would be a subtler choice in the daytime than the Batpod. Yet, either vehicle is actually quite telling of Wayne's secret identity in any time of day as "murciélago" is the Spanish translation of the word "bat."
Christian Bale's Infamous Batman Growl Was Achieved With Post-production Tinkering
Of course, a car hinting at his vigilante persona is the last thing Bruce Wayne should be concerned about given the clearly fabricated the way he chooses to disguise his voice: the infamous Batman growl that Christian Bale has gotten a lot of flack for since it debuted in The Dark Knight. However, the one to really blame for it is Christopher Nolan, who chose to replicate Bale's voice in the sequel to the deeper, raspier tone we know today with some post-production editing.
Recovering Addict David Dastmalchian's Dark Knight Role "Profoundly" Changed His Life
On the other hand, one person who feels he owes Christopher Nolan a great deal of thanks is David Dastmalchian, who was a recovering drug addict at the time he made his feature film debut as Joker's schizophrenic scapegoat Thomas Schiff in The Dark Knight, as he revealed to The Hollywood Reporter. The wordless, yet memorable, role "so profoundly changed" the life of the actor, who would go on to play Kurt in 2015's Ant-Man and its sequel and will appear as Polka-Dot Man in James Gunn's The Suicide Squad and in his third collaboration with Denis Villeneuve in Dune.
Be sure to check back for additional information and updates related to The Dark Knight, as well as even more inside looks at your favorite movies and TV shows, here on CinemaBlend.