Quentin Tarantino's The Hateful Eight Is Costing Theaters A Small Fortune For 70mm Upgrades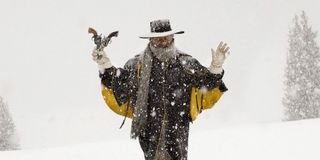 Any time Quentin Tarantino releases a movie, it's a big deal. For as influential and popular as his films are, he really only has a handful of features on his resume, so people always get excited, but his upcoming The Hateful Eight is a big deal for another reason. The gritty western will screen in 70mm in a number of theaters, and while the director's dedication to celluloid and the non-standard delivery system is sure to delight many cinephiles, the entire process is costing exhibitors a pretty penny.
A theater installation expert recently spoke with The New York Times, and in his estimation it will cost an average of $60,000 to $80,000 just to set up the capability to show The Hateful Eight in 70mm. Before going wide on January 8 in a more standard digital format, the film will open Christmas Day on 96 screens that have been retrofitted to handle the rarely used presentation.
The report quotes the statistics from National Association of Theater Owners, which indicate that of the 40,000 screens in the United States alone, 97 percent use digital projection, which has become pervasive throughout the industry. With the massive cost, both in time and money, distributors The Weinstein Company appear to be footing the bill to make this endeavor economically viable. Apparently, over roughly the last year and a half, they have been working to get their hands on projectors and the appropriate lenses, as well as training people how to use them.
Generally associated with the sweeping Technicolor epics of the 1950s and '60s, 70mm projection has become almost entirely outmoded. Christopher Nolan's Interstellar opened in 70mm, but only on eleven screens, and Paul Thomas Anderson's The Master found it's way onto 16 screens in 70mm in 2012. But there hasn't been anything on this scale for decades, as the last 70mm release on 100 screens was apparently back in 1992.
It's going to be interesting to see if rolling out The Hateful Eight like this is going to be worth it. There's certainly a segment of the movie going public that is thrilled about this, but it's a rather small minority. The 70mm cut will be a slightly longer version than the digital version that will come a few weeks later, which will likely lead to hardcore Tarantino fans seeking out these theaters for that reason. But will many casual fans go through the added effort, especially during the hectic holiday season? Tarantino is a big name and the studios will generally let him do whatever he hell he wants, but as awesome as this approach is, you have to wonder if The Weinstein Company is kicking themselves for going along with it. We'll have to wait and see.
A full list of locations showing The Hateful Eight in glorious 70mm on Christmas Day should be released before long. Will you be seeking out one of these screens, or will you wait for it to become more convenient, format be damned? Or, are you on the police boycott bandwagon and sitting this one out entirely?
Your Daily Blend of Entertainment News