Quentin Tarantino To Take Over The Shadow Movie Sam Raimi Abandoned?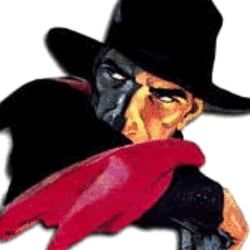 For a while it looked as though Sam Raimi would lick his wounds after the Spider-Man 4 debacle by moving on to an entirely different kind of hero, directing another movie adaptation of the The Shadow, based on the 1930s radio and pulp novel character. Then we heard back in March that Raimi had taken the project from Sony to Fox and had handed directing duties over to David Slade, who presumably would take on the project once he got done attempting to butch up the Twilight franchise with Eclipse.
Now the project seems to have taken a turn for the utterly unexpected. According to Pajiba and their reliable tipster The Hollywood Cog, none other than Quentin Tarantino has expressed interest in the project, and is "attached" as both director and co-writer. Those of us who follow QT and his whims are rightly skeptical that this project will ever happen, or that it will happen around the same time as the Vega Brothers movie or Kill Bill 3. The Pajiba guys admit this could definitely just be another one of those Tarantino dream projects that will never happen, but he is working with a studio on this, so it's more than him just sitting in his private screening room and saying, "Hey, wouldn't it be awesome if…"
Tarantino obviously has an affection for old pulp novels-- uh, duh-- and pop culture detritus of all sorts, and he really could be the perfect guy to balance the camp and the genuine creepiness of a The Shadow movie. Honestly, though, I'm not going to give too much more thought to it, because there's really no guarantee this will ever happen. Sorry to doubt you, QT, but I'm not believing it until the cameras start rolling.
Your Daily Blend of Entertainment News
Staff Writer at CinemaBlend