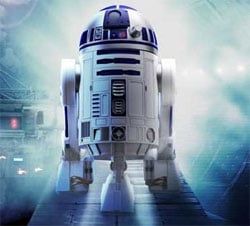 Last year it was Samuel L. Jackson. This year it's R2D2. Every year, there's an actor or actress who just seems to be in everything, whether it's in worthless cameos or starring roles. Earlier this summer, the Star Wars icon made a brief appearance in Star Trek. Many people weren't able to catch it but trust me; it's there.
Now TheForce.net is reporting that the droid has a small part in this weekend's Transformers: Revenge of the Fallen. Visual effects supervisor Scott Farrar stated that R2D2 is in "a scene in the desert." And just like his shot in Star Trek, if you take even a split second to check your watch, you will definitely miss it.
This doesn't come as a huge surprise considering that the two films share a lot in common (none of which is their quality): they share writers, they're both big summer blockbusters, they both fall in the Science Fiction genre, and most importantly their effects were all done by George Lucas's Industrial Light and Magic. Look for R2D2 next summer when he stars in the romantic comedy, Some Like It Bot.
Your Daily Blend of Entertainment News