Rachel Carson's Silent Spring To Get Movie Adaptation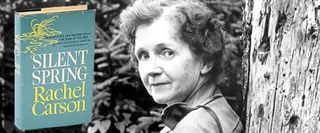 This Thursday marks the 50th anniversary of the publication of Silent Spring, Rachel Carson's expose on the damaging impact the widespread use of pesticides was having not only on plant and animal life, but also on human life. What started as a controversial string of articles in The New Yorker magazine became the catalyst for national debate that led to a groundswell of environmentalism that ultimately led to the ban of the dangerous pesticide DDT. In short, Carson's story is proof of how one person can make a difference, and its this theme that will be the focal point of Silent Spring's movie adaptation.
Chartoff Productions has acquired the rights to Carson's influential tome, and Variety reports the resulting film will center on the author's struggle against the chemical industry that fought viciously to discredit her and her findings. It was a battle she waged until he final days, which sadly came not long after the book's publication. Carson died of breast cancer in the spring of 1964, eight years before DDT was prohibited.
Though gone, Carson and her contributions are not forgotten. Many credit her as the mother of modern environmentalism, and Silent Spring is not only counted as one of the best nonfiction books of the twentieth century, but also has been declared by the Library of Congress as one of the books that has shaped America.
I still distinctly remember when my classmates and I first read a portion of Silent Spring in grade school. Our shrewd teacher assigned it on a beautiful spring day, and it was impossible to read Carson's work without imagining the buzz and chatter of insects and animals from the nearby forest being silenced forever. But I don't recall any part of that day's lesson focusing on the hardships Carson was confronted with in trying to reveal these her shocking findings to the world. That's a story I look forward to seeing, especially since corporate personhood makes its David-versus-Goliath narrative woefully relevant in today's political landscape.
Silent Spring is currently seeking financing from independent equity sources; a TV documentary about the ultimate impact of Silence Spring is also in the works at Chartoff.
Your Daily Blend of Entertainment News
Staff writer at CinemaBlend.