Rachel McAdams In The Dark Knight?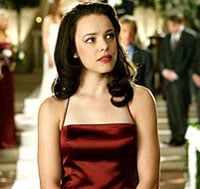 With Katie Holmes confirmed to be out of Chris Nolan's Batman Begins sequel The Dark Knight while her character stays in, now the work of finding someone else to play Rachel Dawes is underway. The first name being thrown about in conjunction with the part is Rachel McAdams.
This isn't the first time she's been rumored to be playing a superhero girlfriend. Not long ago she was supposedly a lock to star opposite Robert Downey Jr. in Iron Man. That rumor turned out to be wrong, a shame since I think she's much more suited to Iron Man's world than Batman's. But Batman-On-Film insists that she's in the running for the role of Rachel Dawes in The Dark Knight.
They offer no corroboration or evidence to support this rumor, so it's likely just another lie made up by the internet's ever growing collection of disreputable movie blogs and fed to the folks over at BOF. Sit back and see if it pans out.