Rachel Weisz Is Catwoman?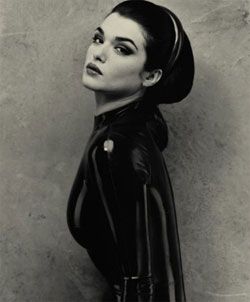 The Catwoman rumors are back. The latest actress rumored for the so far non-existent part is Rachel Weisz. The story seems to have originated at E! Online on Thursday, though it has since been reported by numerous other sources claiming it as their own scoop. Whether that's because they're stealing the story or because they actually have independently confirmed it is anyone's guess.
E! and these other sources further claim that Christopher Nolan is now certain to back for a third Batman flick… this in spite of the fact that for months now, and as recently as a week ago he's made it rather clear that he's not sure whether he'll do another one and if he does, when he'll get around to starting work on it.
Bottom line, there's no reason to lend this particular rumor any more credence than any of the other crazy speculation being invented around this project. That said, at least this rumor isn't awful. Rachel Weisz would be a brilliant Catwoman. It's easy to see her sliding comfortably into Chris Nolan's superhero universe. The rumors of her involvement are unlikely to be true, but let's hope for once they are. At least it's better than Cher.
Your Daily Blend of Entertainment News