Random Film Flashback: Quigley Down Under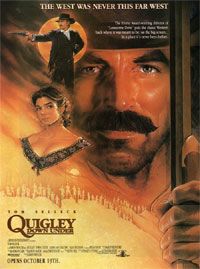 When most people think Westerns, dusty American streets, and cowboys slapping leather with six-shooters instantly come to mind. In 1990 though, Tom Selleck set out to change that with a sharp-shooting Western set in Australia called Quigley Down Under. In recent years the Australian Western has found prominence with movies like The Proposition and Baz Luhrman's upcoming big Australian epic, but Magnum did it first.
In Quigley Down Under Tom Selleck plays Matthew Quigley, a hard-bitten American cowboy with an experimental long-range rifle who answers a job advertisement by sending his prospective employer back his want ad with bullet holes shot through it. He signs it "Matthew Quigley, 900ft". He's hired and ends up in Australia where he's supposed to work for rancher and self-styled quick-draw gunslinger Elliot Marston, played by the great Alan Rickman. Since he's Rickman, you know he's going end up being evil and it's not long before Quigley figures out something's rotten.
Marston wants Quigley to use his formidable sharpshooting skills to slaughter native aborigines. Quigley turns them down and ends up waging a one man war on Marston and his gang with the help of a slightly crazy prostitute and some mystical native mumbo-jumbo.
Unless you're some sort of Three Men and a Baby fan, it's by far Selleck's best film role and it's also one of the few great Westerns made in an era where wild west shootouts are few and far between. Maybe Russell Crowe's 3:10 to Yuma will resurrect the genre when it hits theaters next weekend, but till then we have Quigley.
Quigley on his 1874 Sharps Buffalo Rifle: "It's a lever-action, breech loader. Usual barrel length's thirty inches. This one has an extra four. It's converted to use a special forty-five caliber, hundred and ten grain metal cartridge, with a five-hundred forty grain paper patch bullet. It's fitted with double set triggers, and a Vernier sight. It's marked up to twelve-hundred yards. This one shoots a mite further."
Quigley on being lost: "I don't know where we're goin', but there's no sense bein' late."
Quigley Down Under Trailer:
Quigley Down Under Clip: Long Shot
Your Daily Blend of Entertainment News
Thank you for signing up to CinemaBlend. You will receive a verification email shortly.
There was a problem. Please refresh the page and try again.