Rare Disney Toon Featuring Oswald The Lucky Rabbit Goes To Auction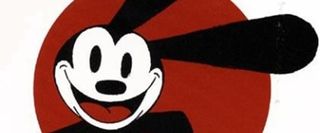 Mickey Mouse has been an icon for nearly a century, the friendly cartoon rodent who has become a beloved character and the face of the Disney empire. But if things had gone a little differently, it might have been an anthropomorphized rabbit posing for pictures at Disneyland, rather than a mouse. Before creating Mickey, Walt Disney made several cartoons featuring Oswald the Lucky Rabbit. Oswald eventually morphed into Mickey, and remains a curious footnote in the history of animation. Now Oswald is back in the news, because the Daily Mail reports that a rare and thought-lost cartoon featuring him has been unearthed, and is expected to bring in nearly $40,000 at auction next month.
The 1928 cartoon, titled "Hungry Hobos," has been missing since before World War II. The film was uncovered in a vault at the Huntley Film Archives, the sort of place you'd think would keep better tabs on a rare and valuable bit of animation arcana. But wait, the story gets better. Apparently the fellow who discovered the film on their shelves didn't recognize the title, so he Googled it. Amanda Huntley, the head of the company, said, "We quickly realized it was one of the great lost films. We posted the news on specialist web forums and everybody was very excited." Good thing that guy was tech savvy then, I suppose.
Walt Disney created Oswald while under contract with Universal Studios in 1927. After producing 26 Oswald cartoons under the partnership, however, Disney eventually split with Universal over contract disputes. The departure also cost him the rights to Oswald, so he created Mickey Mouse -- a slightly altered version of Oswald -- and went on to introduce the world to his most famous creation. In a nice bit of odd synchronicity, "Hungry Hobos" was released on May 14th, 1928, one day before Mickey Mouse was first introduced in a preview screening of his cartoon "Plane Crazy."
Oswald recently returned to the spotlight in an unlikely place -- as one of the main characters of the 2010 Wii video game Epic Mickey, designed by industry legend Warren Spector. Steeped in Disney animation history and trivia, the game imagined Oswald as Mickey's older half-brother, and the ruler of a "Wasteland" inhabited by forgotten or abandoned Disney characters.
"Hungry Hobos" obviously isn't available to watch online, but here's a look at Oswald the Lucky Rabbit in "Trolley Troubles."
Your Daily Blend of Entertainment News