The Ratchet And Clank Movie Has Added An All-Star Voice Cast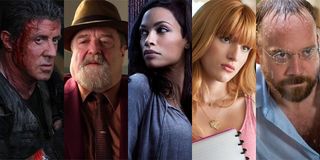 The upcoming feature-length animated adaptation of the popular video game franchise Ratchet and Clank just added an impressive array of talent for their supporting cast of voices. It is being reported that Sylvester Stallone, John Goodman, Rosario Dawson, Bella Thorne and Paul Giamatti have all been added to the 3D animated epic.
The Hollywood Reporter broke the news of this arrival of notable talent for voice roles in the Ratchet and Clank feature film. However, further supplementing this news, IGN revealed that Stallone will play a character named Victor, Goodman will voice Grimroth, Dawson will voice Elaris and Thorne will voice Cora. Of them all, though, it seems that Giamatti may have nabbed the most notable role, since he will apparently voice Chairman Drek, who is expected to be the film's main villain.
Despite the noteworthy assortment of names that have just jumped on board for some mic work, the film's main characters will be reprised by the talent who provided the voices of the characters in the video game series. The Lombax humanoid feline Ratchet will be voiced by James Arnold Taylor, while the utilitarian-adaptable automaton Clank will be voiced by David Kaye. Plus Armin Shimerman is back as Nefarious and Jim Ward returns as the cocky celebrity space ranger, Captain Qwark. The film has been gestating since it was being hyped to gamers at E3 back in 2013, readying itself to serve as a tentpole from which to completely relaunch the video game franchise in 2015. A new reimagining of the video game series is also set to coincide with the release of the film, but release dates have yet to be locked in.
The video game series, which started back in 2002 with the first game released on the Sony PlayStation 2, follows a story set in another part of the galaxy where Ratchet, an anthropomorphic feline mechanic with attitude, teams up with a miniature sentient robot, Clank, who can emulate different functions and gain abilities throughout the game like helicopter flight, and becoming various weapons. The duo are tasked with stopping the evil Chairman Drek, leader of a polluted planet, Orxon, who is attempting to strong-arm other planets across the Solana galaxy to utilize their resources and leave them as environmentally depleted as his own dump of a home.
The game series enjoyed quite a lengthy run during its heyday from 2002 to the last entry in 2013. When the movie was first announced a few years back, the production actually was ready to release a special teaser trailer, which you can watch below:
Your Daily Blend of Entertainment News
Thank you for signing up to CinemaBlend. You will receive a verification email shortly.
There was a problem. Please refresh the page and try again.