Ray Liotta Helps Whistleblower Jeremy Renner In Kill The Messenger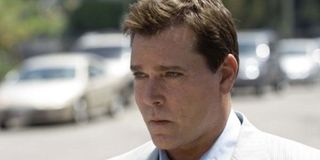 When it comes to whistleblower movies, Goodfellas may well be one most beloved-- and Ray Liotta's smarmy, charming Henry Hill is a major reason why. So it's a sharp move on the part of director Michael Cuesta (Homeland) to cast Liotta in his upcoming whistleblower drama Kill The Messenger.
Like Goodfellas, Kill The Messenger is based on an incredible true story. But far from focusing on mafia men, it centers on journalist Gary Webb. The investigative reporter's career—for better or worse—was defined by a three-part series called "Dark Alliance" that he wrote for the San Jose Mercury News. In it, Webb revealed some shady dealing by the CIA, linking them to a Nicaraguan drug ring that was selling crack cocaine in Los Angeles. Webb went so far as to assert the Reagan administration was knowingly shielding drug dealers from prosecution to create an in-direct means of funding the Contra movement, a rebel force in Nicaragua. The U.S. government—to put it lightly—wasn't happy with what Webb found and so created a smear campaign in hopes of discrediting him. It worked, leading Webb to kill himself at age 49.
This tragic tale doesn't have a typical Hollywood ending, which may be why it's been toiling away in development for more than eight years. However, Kill The Messenger's chances at getting made took a major stride in February of this year when Jeremy Renner signed on to produce and star as Webb. Since then, Barry Pepper signed on to play—who else—a bad guy, more specifically federal prosecutor Russell Dodson, who was commanded to keep quiet the CIA's connection with Nicaraguan drug lords. Next, Marie Elizabeth Winstead committed to play a Webb ally and editor of the San Jose Mercury News, Dawn Garcia. Production on the film began in July, and at that time a press release unveiled Josh Close, Rosemarie DeWitt, Andy Garcia, Lucas Hedges, Tim Blake Nelson, Robert Patrick, Oliver Platt, Martin Sheen, Paz Vega, and Michael Kenneth Williams had also joined the cast. With production in full swing, Deadline reports not only that Liotta has become part of this impressive ensemble, but also that he will play a retired CIA agent who gives Webb key information on this conspiracy.
Though Kill The Messenger is currently in production, there's been no news on when it might hit theaters, though we can probably expect it sometime next year. In the meantime, Liotta has a serious slate of movies coming up. Five of his films are currently in postproduction including the dark comedy Better Living Through Chemistry with Olivia Wilde and Sam Rockwell, Robert Rodriguez's ultra-violent crime-thriller Sin City: A Dame to Kill For, and James Bobin's much-anticipated follow-up to The Muppets, Muppets Most Wanted. Looking at just this trio, it's clear Liotta's hit a sweet spot in his career where he can really do just about anything. As proof, here he is playing himself on the sensational cartoon series Phineas and Ferb. Go to the 3 minute mark:
Your Daily Blend of Entertainment News
Staff writer at CinemaBlend.