Sin City: A Dame To Kill For Pushed Back Almost A Year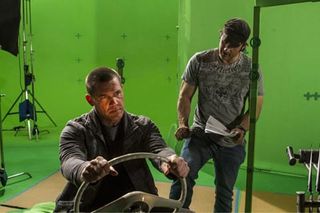 Sin City: A Dame To Kill For, the sequel that seemed so unlikely for so long, is now a step further away from actually existing. An update at Box Office Mojo reveals that the film has been pushed back almost a full year, from a planned release of October 3 this year to August 22 of 2014.
Of course, if you've been paying attention, this shouldn't be that surprising. The film kicked off production earlier this year, and in February director Robert Rodriguez posted the above image of Josh Brolin on set, taking over for Clive Owen in the role of Dwight. February to October is just 8 months, a ridiculously tight production schedule for any movie that involves effects, and especially for the stylized world of Sin City. Look at all that green screen behind Brolin! Someone has to fill that in, and that someone likely complained loudly to get the Weinstein Company to come to their senses and push back the release.
Dimension Films announced a start of production for Sin City: A Dame to Kill For more than a year ago, which just goes to show you what kind of timeline they thought they had when deciding an October 2013 release was possible. We have no idea if this kind of lengthy bump is a good or bad thing for A Dame To Kill For in the end-- they hadn't really started to build up buzz, so there won't be much lost in terms of marketing, and late August can be a good release window for slightly schlocky genre stuff like this. But in terms of how the film will look, and how well it will repeat the lush visuals of Sin City, this can't be anything but a victory.
Your Daily Blend of Entertainment News
Staff Writer at CinemaBlend