Ray Park Wants To Bring Back Darth Maul With Robotic Legs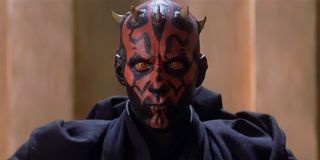 Star Wars: The Force Awakens already features a ton of returning players, including Luke Skywalker (Mark Hamill), Princess Leia (Carrie Fisher), Han Solo (Harrison Ford), Chewbacca (Peter Mayhew), C-3PO (Anthony Daniels) and R2-D2 (Kenny Baker). There's even a throwback to Darth Vader: his charred, melted helmet popped up in the latest trailer release. In light of the potential for original characters to make their comebacks, actor Ray Park wants to return as Darth Maul. And he has an idea of how to do it.
As reported by IGN, Park took the stage during a Q&A presentation at Star Wars Celebration last week. While he spent a chunk of time talking about and showing his skills with the double lightsaber, he disclosed his desire to have Darth Maul back for a standalone movie.
Darth Maul is one of the most popular aspects of the Star Wars prequel trilogy. As the Emperor's pre-Vader apprentice, he chased after Qui-Gon Jinn and Obi-Wan Kenobi throughout Episode I - The Phantom Menace, leading up to an epic battle inside a hanger. Though Qui-Gon ultimately met his end at the hands of this demonic warrior, so did Maul. Obi-Wan sliced the villain in half and watched as his filleted body plummeted down to his death. If getting severed in two didn't kill him, the fall definitely did.
Okay, he didn't scream in the film, but you get the idea.
It's probably safe to say that Darth Maul won't return for Star Wars: The Force Awakens and its subsequent sequels, but the standalone anthology films might not be entirely out of the question. He still remains, after all, an incredibly popular character, and Lucasfilm might find it in their hearts to resurrect him for a prequel storyline. (They did, after all, find ways to bring him back (opens in new tab) in the animated Clone Wars saga.) Although, Maul definitely won't be popping up in Gareth Edwards' Rogue One. As revealed during a separate Star Wars Celebration panel, the Godzilla remake director is making a film that takes place in between Episodes III and IV, and that sees a group of renegades attempt to steal the plans for the Death Star. As Edwards said, this is an opportunity to feature players in the universe who don't have "magical abilities" (i.e. who are not Jedi). We wouldn't get our hopes up for Maul's return, but then again, never say never.
Your Daily Blend of Entertainment News
Your Daily Blend of Entertainment News
Thank you for signing up to CinemaBlend. You will receive a verification email shortly.
There was a problem. Please refresh the page and try again.