Read The Letter Daniel Day-Lewis Wrote To Steven Spielberg Turning Down Lincoln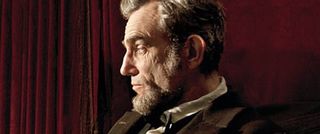 At last night's New York FIlm Critics Circle awards dinner, both Daniel Day-Lewis and Steven Spielberg were on hand to celebrate their film Lincoln, which had won the Best Actor prize for Day-Lewis and Best Screenplay for Tony Kushner. If Spielberg was sore about losing Best Director to Zero Dark Thirty's Kathryn Bigelow he sure didn't show it, taking the stage to present Day-Lewis's award and reading the letter Day-Lewis had written him when, unbelievably, he initially turned down the role of Abraham Lincoln.
As Spielberg explained it, he sent several drafts of the film to Day-Lewis before eventually hiring Kushner, and after receiving one of those drafts-- which Spielberg says was more like Saving Private Ryan set during the Civil War-- Day-Lewis wrote him a very thoughtful rejection. Here's that text, via Criticwire:
You can head over there to read Spielberg's very moving account of the final day of filming, when he heard Day-Lewis step out of character for the first time in four months, and "it made me cry because I wasn't ready to say goodbye to this warm and generous President who I had gotten to know better than all the history books I've ever read." Even if you're not necessarily nuts about Lincoln, you have to admire the incredible passion it took from both director and actor to make it possible.
Staff Writer at CinemaBlend
Your Daily Blend of Entertainment News
Thank you for signing up to CinemaBlend. You will receive a verification email shortly.
There was a problem. Please refresh the page and try again.