Real Life Boba Fett Inspired Armor Is Coming Soon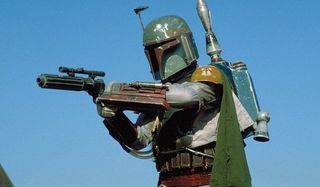 Go to damn near any convention or gathering of comic, movie, or gaming enthusiasts and you're almost guaranteed to see at least one person dressed like Boba Fett. The fan favorite Mandalorian bounty hunter has been the motivation for countless intricate, insanely detailed costumes over the years, but most of them aren't particularly practical, you know, as armor. Until now. A body armor manufacturer is teaming up with other companies and plans to release a line of Mandalorian-inspired ballistic armor.
AR5000 Armor recently took to Facebook to unveil a few looks at the prototypes for the GalacTac Project, which, as you can clearly see, is inspired by Boba Fett and his Mandalorian brothers and sisters. A number of high-profile companies are working on this endeavor, including Heckler & Koch, TEA Headsets, Sog Knives & Tools, Armasight, SureFire, Wilcox Industries Corp, and Team Wendy.
This is awesome and more than a little unsettling at the same time. These look cool as all hell, like super in depth cosplay, but imagine you're in some kind of combat situation, which is a harrowing enough a proposition on its own, and a heavily armed dude that looks suspiciously like Boba Fett steps around the corner. You'd probably think you lost your damn mind for a second, and maybe you'd consider that you somehow you actually entered the world of Star Wars. (Granted, some of us have been dreaming of that moment our entire lives.) That would be disconcerting to say the least, and maybe that hesitation gives the wearer a tactical advantage.
The actual armor is designed by Ryan B. Flowers, who has become known in certain circles for the Mandalorian armor designs he customizes for airsoft players. This, however, is a bit of a different animal, as this is fitted with ballistic plates, not to mention all kinds of cool gadgets and bits of tech provided by the various players involved.
In the Star Wars universe, the Mandalorians are a nomadic group of warriors, more a clan than a race, as their ranks are made up of individuals from a number of species. They often serve as mercenaries or bounty hunters bound to the highest bidder, and the moral grey area they inhabit, as well as a general distaste for the Jedi, has led to them teaming up with the Sith and the Empire more often than not. Boba Fett is not a particularly nice guy, but not all Mandalorians are villains. For instance, Sabine in Star Wars Rebels is one of the good guys.
We will get to see more Mandalorians on the big screen before too long, as one of the standalone Star Wars Story movies revolves around Boba Fett.
Your Daily Blend of Entertainment News