Star Wars: The Boba Fett Spinoff May Be Eyeing Fantastic Four Actor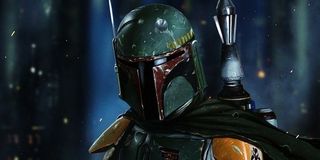 In the wake of Fantastic Four being a critical and financial bomb, the fallout was vast. Amidst a storm of rumors and reports of behind the scenes problems, director Josh Trank was removed, or perhaps left, the standalone Star Wars movie he was supposed to helm next. According to the prevailing logic, that film was going to revolve around bounty hunter Boba Fett, and while that project has been pushed back on the schedule, a new rumor indicates that one of the stars of Fantastic Four could be on top of Lucasfilm's wish list to play the Mandalorian bounty hunter.
First, there are potential SPOILERS beyond this point. Second, this is a rumor, and a completely unsubstantiated one at that, so take it with a big grain of salt.
Here we go. On the latest episode of Meet the Movie Press podcast, Jeff Sneider of The Wrap said that Michael B. Jordan, who played Johnny Storm in Fantastic Four, could possibly play the fan favorite Boba Fett. Again, we can't stress enough that this is a RUMOR and should be treated as such. And besides, just because the studio is interested in someone for a part, doesn't mean it will happen. Still, it's an interesting proposition.
This obviously brings up a number of things. Should this happen, there will likely be a similar backlash as all of the people who were upset that there is a black stormtrooper in Star Wars: The Force Awakens. That's unfortunately going to happen, but an actual legitimate question is that Boba Fett is the clone of Jango Fett, played by Temura Morrison, who is of Maori, Scottish, and Irish decent, and when we saw him as a kid in the prequels, he looked nothing like Jordan. If he's all of a sudden a young African American man, that could be very strange and jarring indeed.
One way this could possibly work out, however, is if the Boba Fett we meet as a child in Attack of the Clones isn't the Boba Fett we meet later on. Morrison voiced the character in the special editions, so we know that young Boba does indeed grow up, but later on, someone else could possibly fill the armor.
There have been rumblings that, at some point in his timeline, Boba Fett died—or, most likely, was murdered, he runs in nefarious circles after all—and someone took over his identity. He certainly has a formidable reputation and all kinds of underworld contacts, so a rival bounty hunter could do very well for him or herself taking over his business.
As crazy as that may sound on the surface, it's not completely without precedent. From all appearances, he dies in Return of the Jedi, left to be digested in the Saralcc pit. But in the Expanded Universe, he has shown up again. While the EU stories are not official canon, in the recent novel Star Wars: Aftermath, which is canon, there's a hint of how he could return.
During one of the asides to the main narrative, we meet a character named Cobb Vanth on Tatooine, obtains a "pitted, pocked" set of Mandalorian armor from some Jawas. While it is never explicitly said to be Boba Fett's, that is certainly the implication. The if, the how, and the why, are all still big looming questions, but it does seem like, depending on the timeline of the Boba Fett movie, we could see him, or at least a version of him show up.
There have been rumors that the Lucasfilm story group has had trouble fleshing out the Boba Fett movie. He is, after all, a heartless bounty hunter, which makes him problematic as a protagonist—something that could be rectified by a swap. There's also a level of mystery surrounding him, as we don't really know much about him, and a whole movie's worth of exposition about him could potentially ruin one of the things that makes him so popular among fans.
We'll have to wait to see how all of this shakes how, but for now, Michael B. Jordan playing Boba Fett is more of an interesting possibility than anything more concrete than that. We'll get to see the talented young actor later this year in Creed, and we're just a few months away from Star Wars: The Force Awakens. Try to contain yourself.
Your Daily Blend of Entertainment News
Thank you for signing up to CinemaBlend. You will receive a verification email shortly.
There was a problem. Please refresh the page and try again.