The Real Reason Michael Bay Isn't Making Transformers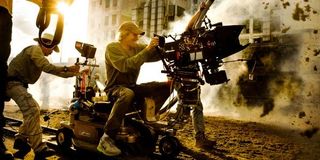 Today is a great day for a portion of Transformers fans and a woeful day for others. Because it looks as though Michael Bay isn't going to have time to return to the hugely profitable franchise for its inevitable fifth instalment.
Michael Bay has spent the last few months trying to convince the world that he wouldn't direct Transformers 5. However it was widely assumed that either Paramount would be able to convince him to change his mind or the allure of destroying half the world with a bunch of giant robots would prove too much for him. According to Variety though Bay will instead helm 13 Hours, which will once again see him team up with Paramount. 13 Hours will revolve around the true story of the attack on the U.S. Special Mission Compound and a CIA Annex in Benghazi, Libya. This incident occurred on September 11, 2012, the 11th anniversary of the 9/11 attacks.
Paramount is clearly very keen on bringing the story to the big screen. They purchased the rights to Mitchell Zuckoff's book, Thirteen Hours: A Firsthand Account Of What Really Happened in Benghazi, before it was even published. The studio has since hired Chuck Hogan, whose 2004 novel, Prince Of Thieves: A Novel, was adapted into Ben Affleck's Boston-based crime drama, The Town, to pen the script too.
However it is Michael Bay's inclusion in the project that will have some moviegoers concerned. Despite his status as the most profitable director in modern cinema, Michael Bay is a somewhat divisive figure. Actually let's put it another way: 90% of movie aficionados despise him while the other 10% grudgingly respect him. His career actually started rather promisingly with Bad Boys and The Rock, but his next nine feature film efforts have all been heavily criticised by critics. Well, all nine except for 2007's Transformers, which was actually met with average reviews. For a Michael Bay film, that is a huge accomplishment. Plus, even though the following three sequels have all been an orgy of explosions, violence and annoying supporting robot characters, the original was actually an entertaining blockbuster that was as funny as it was enthralling.
But is there a chance that Michael Bay could combine his mainstream filmmaking aesthetics with a nuanced, personal touch to create a more complex movie? Hopefully. But we've been in this situation before. 2013's Pain & Gain was supposed to see Michael Bay enter a more mature phase. And while it was a vast improvement on both Transformers: Revenge Of The Fallen and Transformers: Dark Of The Moon it ultimately faltered because of the same problems that blighted his previous efforts. It was overly long, had a bloated second act, and Michael Bay's bombastic visual style eclipsed any characterisation or plot that was attempted. It sounds as if 13 Hours will see him dealing with a much more sensitive topic, which will hopefully mean that he will deploy a more sensitive and subtle style. I'm not holding my breath that will actually be the case though.
Your Daily Blend of Entertainment News