Rebecca De Mornay Is A Mean Mother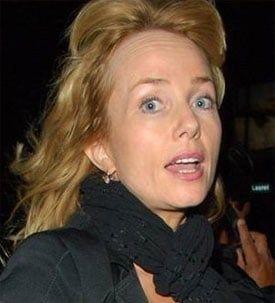 Most people recognize Rebecca De Mornay from her turn as the psychotic, homicidal nanny in The Hand That Rocks The Cradle (though I personally hold her more dearly as the closest Disney ever dared get to sexy as Lady DeWinter in The Three Musketeers). Apparently ready to take the next step in exploring the mind of the maternally malignant, she's moving up from mommy killer to mommy who kills.
Three time Saw director Darren Bousman and first time screenplay writer Scott Kilam have teamed up to remake Charles Kaufman's (not to be confused with Charlie Kaufman) 1980 horror flick Mother's Day, the story of a woman who elicits the love of her two sons by seeing which of them can most creatively rape and kill women. With a plot like that it's hard to imagine why it hasn't already been remade before.
According to the Hollywood Reporter De Mornay has been cast to play Mother (no other name given or needed), and Bousman seems very excited to have landed her for the role. "Every time you look at (Rebecca), she is on fire, and to take her to this level," Bousman touted, "which is like her role in 'Hand That Rocks the Cradle' times a thousand, is exciting. She is not some Freddy Krueger or Jason, so it was important for me to get a real actress." Well, Darren, while I'm sure Rebecca appreciates being held to a higher standard than Robert Englund, I'm not sure this is the kind of movie that validates acting careers either.
In the original film Mother and her boys were forest dwelling back hills white trash. No word yet if Bousman will keep to that motif or not but it might be funny to see De Mornay with a few teeth missing. The movie already boasts Jaime King and X-Men's Iceman, Shaun Ashmore along with Briana Evigan and Matt O'Leary, both fresh off new horror flick Sorority House. The movie hits theaters in 2010.
Your Daily Blend of Entertainment News
Thank you for signing up to CinemaBlend. You will receive a verification email shortly.
There was a problem. Please refresh the page and try again.