Red Riding Hood Trailer: Amanda Seyfried Versus The Big Bad Werewolf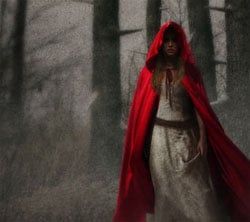 Twilight director Catherine Hardwicke has moved on from sexy vampires to big bad wolves. Her first movie since 2008's franchise starter Twilight is Red Riding Hood, and yep, it's that Red Riding Hood. Hardwicke's take on the classic tale of grandmothers, little girls, and hungry predators involves Amanda Seyfried as Valerie, the girl in the red hood. The rest of the cast is pretty good too with Gary Oldman and Virginia Madsen, along with Julie Christie as Red's grandmother.
But until you see the trailer, the idea of turning Red Riding Hood into a serious movie sounds pretty silly. The film's first trailer will debut this weekend in front of Harry Potter and the Deathly Hallows: Part 1, but it's already online, right now.
Watch the first trailer for Red Riding Hood below or in HD on Apple.
Ok, the concept still seems pretty silly. The trailer tries, and tries hard, to set this up as the new Twilight, but at the end of the day the title still reads Red Riding Hood, and that still seems pretty silly. But if you can ignore the fact that it's based on something pretty unsuited to be turned into a movie, what's there in the trailer actually looks sort of dark and gritty. Like True Blood meets Twilight, it's living on a wolfy middle ground between those two vampire extremes.
Let us know what you think of the first trailer for Red Riding Hood in the comments section below. For more on the movie, including a look at the film's first poster, visit the Blend Film Database.
Your Daily Blend of Entertainment News
Thank you for signing up to CinemaBlend. You will receive a verification email shortly.
There was a problem. Please refresh the page and try again.