Relativity Media May File For Bankruptcy, Leaving Many Upcoming Movies In Limbo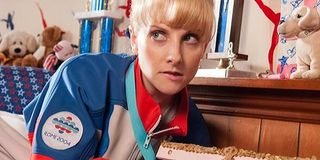 It appears that the financially strapped Relativity Media has hit some critical, existentance-threatening roadblocks. After quickly becoming a major producer and distributor of some of the most prominent films in recent years, the 11-year-old company faces bankruptcy. As a result, it appears that a number of Relativity's projects could be in serious jeopardy.
As The Hollywood Reporter indicates, the financial collapse of the hit-making Relativity seems imminent, and partners for some of its upcoming projects have started takin necessary steps to cut ties. Most notably, Sony has reportedly terminated a $3 million deal for the domestic distribution rights to the comedy The Bronze. The move serves as a symbolic and financial blow to the company, which is dealing with debilitating deficits, low morale, and dangerous debt reallocation that could see the company slip from the hands of its founder, Ryan Kavanaugh.
Such an event could jeopardize the release of a number of Relativity's upcoming films if they fail to find an equity source by Wednesday. The immediate impact could be quite visible since funds that would be typically allocated for promoting the October 16 release of The Bronze would then be left without any source for promotional funding. The same can be said for the upcoming action thriller, Autobahn. That film, showcasing a stacked cast of Felicity Jones, Nicholas Hoult, Anthony Hopkins, and Ben Kingsley, could also see its October 30 release go shockingly unheralded due to a lack of an advertising budget.
However, the fate of Relativity's earlier releases are still uncertain. Director, D.J. Caruso's psychological thriller, The Disappointments Room, and Mike Flanagan's dream-centric horror film, Before I Wake, are likely awaiting critical news. Contrary to the conventional release tactic of companies, both of those films were scheduled to hit on September 25, something that doesn't seem likely to hold. On the other hand, Relativity's upcoming biographical comedy, Masterminds, starring Kristen Wiig, Zach Galifianakis, and Owen Wilson will probably move forward undeterred after having already experienced a telling shift from its set August 7 release to October 9.
The sting of Sony's devastating divestment from The Bronze remains the visible, industry-shed blood in the water for Relativity. It has given quite the critical status to the film, which was written by and stard Melissa Rauch of The Big Bang Theory, who plays a crass, Tonya Harding-esque Olympian. The smaller film, independently produced by the company of Mark and Jay Duplass, is hardly comparable to some of the blockbusters that Relativity has distributed and produced. Yet, the loss of this small movie could signal a meal for potential creditor companies, who may soon look to divvy up the inevitable property feeding frenzy.
Such an idea is reinforced as Toronto-based company Catalyst Capital purchased $130 million of Relativity's debt earlier this month. While the deal might have given the company some slack to get its house in order, it seems that other, more aggressive buyers are looking to acquire that debt for themselves in what would essentially be a buyout. In fact, Kavanaugh has recently accused a notable potential buyer, Colbeck Capital, of spreading denigrating rumors to engineer such a buyput. With this kind of drama circulating in addition to the financial woes, it will certainly be interesting to see if Relativity can move past this predicament.
Your Daily Blend of Entertainment News