Rental Confusion: Project X And 7 More Movie Titles To Avoid Mixing Up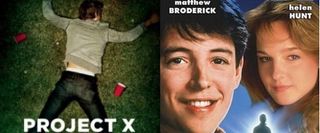 Wait, so Project X – which opens in theaters on March 2 – doesn't star Matthew Broderick as a rule-breaking Air Force pilot who needs Helen Hunt's help to save a research-lab-full of chimpanzees from radiation poisoning? Man, is my Netflix queue going to be confused in a few months when the bawdy, found-footage teen party comedy of the same name makes its way to home video.
Why would Hollywood use the exact same title for a wildly different movie? Not to mention the fact that people who've managed to see Project X already – the new one, not the chimp one – tell me that there's absolutely no reason for that title.
This isn't the first time this has happened, and you know it isn't going to be the last. Here are eight of our favorite movie-title mix-ups. Commit them to memory, so you don't get stuck watching the wrong feature some Friday night in your immediate future.
The Avengers vs. The Avengers
Comic book fans have waited decades to see mighty Marvel superheroes Thor, Iron Man, Captain America and Hulk sharing the silver screen. And their wish is about to become a reality once Joss Whedon's blockbuster graces the screen. Pay attention to what you are renting down the line, though, because the wrong click at a Redbox location and you could be bringing home Uma Thurman, Sean Connery and Ralph Fiennes in a bowler hat. The existence of an old Avengers even led to a name change for Whedon's work. Talk about rental confusion.
28 Days vs. 28 Days Later
The former starred Sandra Bullock as a party girl trying her damndest to sober up at an isolated drug and alcohol rehabilitation center. The latter, directed by Danny Boyle, plunged viewers into a zombie apocalypse where a virus has wiped out most of the world's population. Now if only Hollywood could make a movie about Bullock's drunken newspaper columnist fighting off bloodthirsty creatures, we'd be in 28 Days heaven.
Apollo 13 vs. Apollo 18
What a difference five numbers can make. Thirteen isn't supposed to be a lucky number, but it's unlucky viewers who rent Gonzalo López-Gallego's found-footage horror Apollo 18 thinking there getting Tom Hanks and Kevin Bacon. What they get, instead, are moon rocks with spider legs. I wish I were joking.
Crash vs. Crash
It's rare that a Best Picture-winning Oscar drama is significantly worse than the deranged genre flick of the same name, but that's the case with Crash. So be extra careful when you are seeking out David Cronenberg's examination of deviant sexual creatures who link carnal passion to automobile accidents. Because you might bring home Paul Haggis' heavy-handed race-relations drama, instead.
A Serious Man vs. A Single Man
Can you believe these two reached theaters within a few weeks of one another? It took me forever to learn how to separate these 2009 dramas … and I'm a huge fan of Serious, which was Joel and Ethan Coen's wry, dry commentary on religious faith. But neither Man made much of an impact on moviegoers, meaning few had to worry too much about telling them apart.
Kicking & Screaming vs. Kicking & Screaming
I love this one, largely because most Will Ferrell fans wouldn't have the patience for Noah Baumbach's subtle humor, and Baumbach's higher-brow audience would sooner shrivel up and die before sitting through one of Ferrell's sports comedies. Truth be told, both versions of Kicking and Screaming make me laugh for different reasons, but not as loudly as I chuckle thinking about the people who mistakenly rented the wrong Kicking and screamed once they realized it.
The many American movies
We almost brought up Ghost movies, because there are a ton. But a quick search confirmed that there are far more American movies waiting to confuse uncertain renters. One false move could give you The American President instead of An American Tail, or American Psycho over American Gangster. Teenagers seeking the gratuitous nudity of American Pie could mistakenly get the curb-chewing hatred of American History X. And that doesn't even count American Beauty, American Graffiti, An American Werewolf in London … Just rent George Clooney's The American and call it a patriotic day.
Your Daily Blend of Entertainment News
Sean O'Connell is a journalist and CinemaBlend's Managing Editor. He's frequently found on Twitter at @Sean_OConnell. ReelBlend cohost. A movie junkie who's Infatuated with comic-book films. Helped get the Snyder Cut released, then wrote a book about it.