Resident Evil: Retribution Comic Con 2012 Live Blog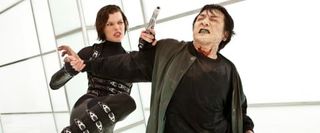 The Game of Thrones panel left Hall H in tatters. It's up to Resident Evil: Retribution to sweep up the pieces and re-energize this San Diego Comic Con crowd with the promise of zombies, guns and Milla Jovovich in skin-tight leather.
Speaking of, Jovovich is about to preside over a Retribution panel with husband/director Paul W.S. Anderson, Michelle Rodriguez, Oded Fehr, Boris Kodjoe and Mika Nakashima. They're promising never-before-seen footage, possible details on Alice's past, and the plan to conclude this cult horror franchise … soon. Let's panel!
4:02 We are handed 3D glasses on the way in to Hall H. The promise/threat of Michelle Rodriguez in 3D is stimulating/terrifying.
4:09 Panel's a little late, but we're being told there will be footage cut just for us!
4:10 Footage is coming up. Paul W.S. Anderson is up first. Smattering of applause.
4:11 Anderson says it was time to "make the franchise much bigger." Says the franchise is "reaching a climax" and this one needed to be "epic." They shot in Moscow, Tokyo, Washington D.C., where they destroyed (a model of) the White House. Cool.
4:17 Had to shut down so we could see the trailer! It was a 3D cut of the trailer we most recently saw. Resident Evil goes global. Now the cast is reaching the stage.
4:18 Michelle Rodriguez gets as big a reception as Milla Jovovich. Understandable.
4:19 "What's up?!?!" Jovovich screams at the fans! She says she gets to play a normal person in the movie for a short amount of time, which made her feel like more of a superhero once she was able to switch back into butt-kicking mode.
4:20 More footage! Hold on.
4:23 They just showed us two minutes of footage from the nine-minute fight that concludes the film. It's set on a glacier (I believe), and it's the best slo-mo, heavy metal video I've seen today. The cast, seeing it for the first time in 3D, is visibly pumped by the footage. And rightfully so. Rodriguez's character spits bullets OUT OF HER FINGERTIPS!
4:24 Fehr says his return to the franchise was "somewhat unexpected, mainly because I died in the third movie."
4:25 Rodriguez loves Jovovich. And she loves the franchise. She thanks Anderson for shooting her in the head and bringing her back into the fold. Japanese pop star Mika Nakashima doesn't speak English. But she's adorable.
4:27 An Asian Buzz Lightyear kicks off the fan questions by asking Rodriguez if she'll sleep with him. Fans boo, but this inane question triggers a fantastic story by Rodriguez that involves drugs, masturbation, and a sword Sam Jackson gave her from S.W.A.T. It was awesome.
4:27 A nervous guy this time asks the ladies how much they bench press. Creepy. Rodriguez says she "gyrates a lot." Men in the audience get sweaty. She clarifies that she meant dancing.
4:29 Rodriguez name-drops Girl Fight. Karyn Kusama fans woot.
4:33 A nervous lady asks Rodriguez about being "the queen of resurrection" by talking about her return to Fast and Furious. Also asks if she'll come back to Avatar, but Rodriguez professionally defers by talking around the answer.
4:34 Anderson admits that this feels like the beginning of the end of the franchise, and he says that a lot of people will die in this movie as they start to bring the series to a close. "No one's really safe in this movie." Jovovich says that she and Anderson have talked about the end of the story in their home. But the conversations end with them throwing items at each other. "In 3D," Jovovich jokes. Then she says that she does know what's going to happen in the end. "I'm married to the guy! You think I don't know?!"
4:36 Rodriguez rightfully calls Jovovich out, saying that was "a cop out" and that she "thought you were going to give us something juicy!" She still doesn't.
4:40 Rodriguez just referenced Snoop Dogg on Larry King as a roundabout way of talking about marijuana.
And that's how we're concluding the Resident Evil panel, which largely showed us the trailer and the start of what could be a massive fight sequence. Anderson swears that the fight we saw stretches on at least nine minutes. Want to learn more? Follow the hashtag #residentevil. On to Son'y official panel, which means Total Recall!
Your Daily Blend of Entertainment News
Sean O'Connell is a journalist and CinemaBlend's Managing Editor. He's frequently found on Twitter at @Sean_OConnell. ReelBlend cohost. A movie junkie who's Infatuated with comic-book films. Helped get the Snyder Cut released, then wrote a book about it.
Your Daily Blend of Entertainment News
Thank you for signing up to CinemaBlend. You will receive a verification email shortly.
There was a problem. Please refresh the page and try again.