Rhona Mitra Rumored As Catwoman In Batman 3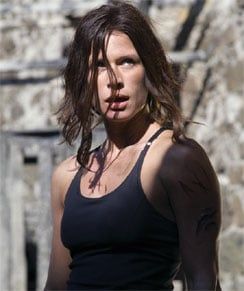 Batman 3 still isn't anywhere near close to being made, which means that any casting rumor you hear related to the film is still almost certainly nothing but bunk. Now that I've gotten that warning out of the way, here's the latest in probably wrong Batman 3 casting rumors.
Batman-On-Film says Rhona Mitra may be "in the mix" to play Catwoman in Batman 3. This presupposes Catwoman is even in Batman 3, something which everyone in the world seems to have simply assumed, even though no one involved with the production has even hinted that it's so.
According to the BOF guys (who themselves are quick to point out this rumor is probably vapor), people were impressed by her role in Doomsday. I find that pretty hard to believe. Not that they might be impressed by her, but that anyone actually saw Doomsday. Assuming someone did, her performance may have gotten that someone's attention, which could have Rhona in contention to wear Batman 3's as of yet non-existent cat suit. It's unlikely to pan out, but I'm hoping the mainstream rumor picks this rumor up and runs with it, just to wash the taste of Cher out of everyone's mouth. In case you were wondering, Cher as Catwoman tastes like dried industrial waste stuck in the ass crack of wet leather. Give me Rhona Mitra instead.
Your Daily Blend of Entertainment News
Thank you for signing up to CinemaBlend. You will receive a verification email shortly.
There was a problem. Please refresh the page and try again.