How One Plastic Surgery Could Have Swung The Oscar Race, According To An Academy Member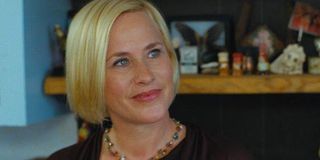 Plastic surgery has long become a staple across much of Hollywood's talent. What began many decades ago (dating back to the 1930s) as a minor trend has now become an almost absolute necessity in the eyes of many men and women who aspire to grace our screens well into their golden years. That said, one Academy member thinks actress Patricia Arquette's recent success for her role in Richard Linklater's Boyhood may be linked to the now-common practice, or in Arquette's case, her lack thereof.
The latest article in THR's ongoing series featuring conversations with Oscar voters as we approach the 87th Academy Awards, found the topic of plastic surgery to be at the forefront of the discussion when talking about Arquette's recent run of "good luck." Not only that, the anonymous interviewee seems utterly convinced that the actress' potential for bringing home the golden statuette is directly tied to her willingness to choose not to go under the knife. Here's what the interviewee had to say:
We realize the above is only one Academy voter's opinion, but it likely echoes a sentiment revolving around the importance of plastic surgery in present day Hollywood. While I could see how it plays into Arquette's situation, I tend to believe her performance in Boyhood, first and foremost, is the leading factor in her already winning her numerous Best Supporting Actress awards. The fact that she could be experiencing an extra boost from her opting to avoid messing with her face only serves as an added bonus.
There were a couple other great performances recognized by the Academy for this year's Supporting Actress; I'm thinking of Emma Stone for her role in Birdman or (The Unexpected Virtue of Ignorance) and Laura Dern for Wild. While both were very good, neither of them got to the depths that Arquette was able to reach, due to the nature of Linklater's film. At a foundational level, Boyhood connects as a very human story, told in an unconventional way, allowing actors to age on the screen. That in itself gave her a leg up, but it could only take her so far. It was her ability to embody and bring to life the character that made it a "stand-out" performance, not her lack of plastic surgery.
That said, it would be refreshing to see Patricia Arquette's beautiful and naturally-aging face spark a new Hollywood trend.
Your Daily Blend of Entertainment News