The Richard Pryor Biopic Has The Perfect Actor For Redd Foxx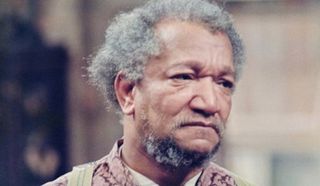 Casting actors for biopics, where they will, by necessity, play people who actually exist, or at least existed, is a tricky proposition. Steve Jobs recently proved that you don't necessarily need to cast someone who looks like the person in question, but they at least have to be able to capture the spirit of the individual. And all things considered, the Richard Pryor biopic that's been in the work for some time, may have found the perfect person to play legendary comedian Redd Foxx.
Foxx was a groundbreaking, not to mention foul mouthed as all hell, comedian most known for his explicit comedy albums and the sitcom Sanford and Sons. According to The Hollywood Reporter, Saturday Night Live and 30 Rock alum Tracy Morgan will play him in the as-yet untitled movie. In a statement, Morgan said:
Set to be directed by Lee Daniels (Precious, Lee Daniels' The Butler), Morgan joins a cast that already includes Mike Epps in the lead role, and Kate Hudson as his wife. Produced by The Weinstein Company, who no doubt have high hopes for awards glory with this one — it seems tailor made for critical attention and acclaim — the film also stars Eddie Murphy and Taraji P. Henson as Richard Pryor's parents, and Oprah Winfrey as the grandmother who raised him. You know, it's your basic no-name cast.
Redd Foxx was an influential figure in comedy, and especially so in the life of Richard Pryor. In addition to being a fearless performer who wasn't afraid to take on social norms and push boundaries, he also ran a comedy club and gave the younger comic an early career break by letting him open for the industry veteran. Born John Elroy Sanford, Foxx even appeared in Harlem Night with both Eddie Murphy and Richard Pryor in 1989, just two years before his 1991 death from a heart attack.
In 2014, Tracy Morgan was involved in a violent traffic accident that included the vehicle he was in, a Walmart semi-truck, and several other cars, in which he was seriously injured, breaking numerous bones and winding up in a coma. In the interim, he has been focusing largely on recovery and rehabilitation, and pursuing legal action against Walmart, but just last month he hosted Saturday Night Live, and has plans to launch a stand up tour next year.
Your Daily Blend of Entertainment News