Rick Santorum Is Giving The World A Hobby Lobby Documentary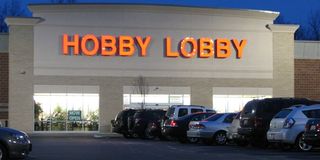 If you care about politics and/ or have a social media account, you're not doubt aware of the already infamous Hobby Lobby Supreme Court decision. Earlier this week, the High Court ruled that for-profit, privately held companies can opt out of ObamaCare's contraception mandate for religious reasons. Many saw the decision as a slap in the face to women's rights, but another segment of the population saw it as a win for religious liberty. Embedded among that latter, right wing group is former Presidential Candidate Rick Santorum, and he's so pumped up about the case, his production company is releasing a movie about it.
Entitled One Generation Away: The Erosion Of Religious Liberty, the documentary has been in production for a few months, and it follows the cultural war that's been brewing between those who want equal rights for everyone and those who see some of those equal rights as infringing on religious liberty. For example: is a county clerk who gives out marriage licenses having her rights violated if she's a Christian and must support same sex couples?
You can watch the Ronald Reagan-obsessed trailer for One Generation Away: The Erosion Of Religious Liberty below, courtesy of Christian Cinema…
This issue is a whole lot more complex than both sides would like to make it out to be. On the one hand, it is in this country's best interest to allow private businesses to have a large amount of control over their private policies. Every store doesn't need to hold the same hours. Workers don't need to all be treated the same way (above a certain baseline) because different industries require different approaches to thrive. If Chick fil A doesn't want to be open on Sundays, more power to them. When it comes to things like vaccinations, health care and contraception, however, society has a stake in those issues. Unplanned pregnancies and refusals to immunize affect all of us through our tax dollars, our health and the overall well-being of society.
In his majority opinion, Justice Alito went out of his way to make the ruling as narrow as possible, so as to not invite other companies to try and opt out of various other provisions, but in her dissenting opinion, Justice Ginsberg cautioned this ruling would do exactly that, as well as undermine all the gains women have made in the workplace after they gained the ability to control their reproductive futures.
Expect One Generation Away: The Erosion Of Religious Liberty to be heavily one-sided and marketed directly toward those who already share the same viewpoint.
Enthusiastic about Clue, case-of-the-week mysteries, the NBA and cookies at Disney World. Less enthusiastic about the pricing structure of cable, loud noises and Tuesdays.
Your Daily Blend of Entertainment News
Thank you for signing up to CinemaBlend. You will receive a verification email shortly.
There was a problem. Please refresh the page and try again.