Ridley Scott Says The Xenomorph Is Absolutely Not In Prometheus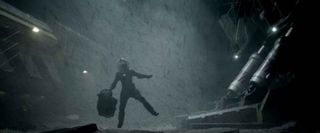 With the release of Prometheus still more than six months away, I'm not entirely sure why Ridley Scott is doing lengthy interviews about the film, especially since his m.o. has been to keep most of the basic plot details under wraps while hinting at where this sci-fi film fits in alongside his landmark Alien. But Ridley Scott does as Ridley Scott pleases, I guess, and in a long interview with Filmophilia Scott revealed a few details about his plans for Prometheus, including that the tie-in to Alien might be a lot more vague than we expected. Here's what he had to say when asked directly if we would again see the xenomorph in the film:
He went on to repeat what he's often said about the way the movie will tie in to the Alien universe:
What does that mean if we're not going to see a xenomorph? Who knows! Like I said, Scott isn't terribly forthcoming with details right now. He did, however, talk about the way that H.R. Giger, the original designer of Alien's creatures, contributed to the visuals in Prometheus. He won't be designing any beasts, it seems, but according to Scott he's "been doing some murals, big murals, which we'll see in almost one of the first chambers we encounter when we land where we're gonna go."
You can check out the lengthy, fascinating interview at Flimophilia and let us know if you see anything else that gives us some info on Prometheus. He also talks a lot about his thoughts on the original Alien, so even if you're not that excited for his return to the subject matter, you can at least read a major director reflecting back on one of his best films. Prometheus is set for release on June 8; you can learn more about it our Blend Film Database.
Your Daily Blend of Entertainment News
Staff Writer at CinemaBlend
Your Daily Blend of Entertainment News
Thank you for signing up to CinemaBlend. You will receive a verification email shortly.
There was a problem. Please refresh the page and try again.