Ridley Scott Still Loves Space, Set To Direct The Martian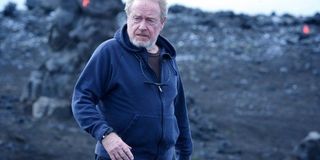 Earlier this year, the director's seat for the upcoming sci-fi story The Martian was vacated right when Matt Damon was announced to star. In the wake of that development, the studio had to start searching for a replacement, and when it comes to space, solitude and sci-fi, one of the first names you go to is Ridley Scott. At first it looked like he was busy, but fear not, folks: Ridley Scott looks like he's rescuing the project from potential development hell, and is heading into space once again.
THR says that Scott is now in talks to make The Martian his 21st directorial effort. The story, based on a self-published novel by Andy Weir, concerns an astronaut who is accidentally stranded on Mars and must find a way to return home. So it's Gravity, but several million miles scarier and on a celestial body. The persistence shown in the trades comparing it to Cast Away is likely them trying to keep us from referring to it as Gravity, but come on now - it's Gravity on a planet with a dude.
While Drew Goddard was originally on board to direct the film, adapting the book himself, but he had to drop the project because of contractual obligations to the new Spider-Man franchise, specifically the The Sinister Six movie. It sounds like Fox wants to move very quickly on this film, but Sony wants to move even quicker on their project. While the super villain team-up picture does not have an official release date, it's worth noting that The Amazing Spider-Man 3 does, so the quick movement on The Martian and Goddard's drop-off could suggest that Sinister Six could be replacing Amazing Spider-Man 3 on the release calendar. This is purely speculation of course, but after Marc Webb has directed two of the lowest grossing films in the Spider-Man series, a change might be necessary.
Ridley Scott may have seemed like he had his own commitments, with March 4th, 2016 being a date earmarked for an Untitled Ridley Scott Project over at Fox. With Michael Green (Green Lantern) recently hired to re-write Jack Paglen's (Transcendence) script for Prometheus 2, most speculated that would be Scott's next. But the forever-tinkering Scott is a restless sort, and it's not hard to imagine him pulling a Spielberg, speed-shooting The Martian for an early 2015 release, then spending the end of 2014 and most of 2015 working on Prometheus 2. Or he'll just produce Prometheus 2 for another director and sit at home, looking at early footage through a satellite link. Scott is 76, and he made Alien and Blade Runner. Would you begrudge him for staying home and enjoying a well-deserved retirement?
Scott's next project isn't some tiny indie, but rather a massive Biblical tale aimed for a holiday release this year. Exodus: Gods And Kings stars Christian Bale as Moses, and features a supporting cast that includes Joel Edgerton, Aaron Paul, Sigourney Weaver, Sir Ben Kingsley and John Turturro. When Scott goes, he goes hard, especially because he already made his little movie - last year's The Counselor, which unexpectedly grossed $71 million worldwide on a $25 million budget. On paper, Scott's too old to jump right from The Martian into Prometheus 2, but we imagine he spits on that paper, throws it in your face, then takes it back and releases a longer version of that paper on DVD.
Your Daily Blend of Entertainment News