The Ring 3 Picks Peculiar, Oscar-Winning Screenwriter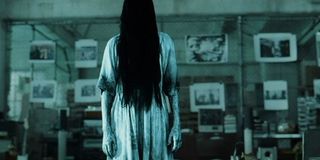 Earlier this summer we told you Paramount Pictures was getting serious about The Ring 3, having selected a director for the long-awaited horror sequel. But now this possible-completion to the chilling trilogy just got a bit more interesting with the announcement of a new screenwriter. For better or worse. You tell us.
In July, Paramount revealed Spanish helmer F. Javier Gutierrez had been chosen to direct The Ring 3, but it was unclear if the studio had a script in place. Deadline reports Paramount has entered into negotiations with Academy Award-winning screenwriter Akiva Goldsman. Should he sign on, the scribe behind the critically heralded biopic A Beautiful Mind and the unheralded 1997 franchise killer Batman & Robin, would be the third screenwriter to touch The Ring 3.
Inspiration for the threequel was found in Koji Suzuki's novels. From there, Paramount had picked David Loucka, writer of the equally abysmal The House at the End of the Street and Dream House, to pen The Ring 3's first draft. Then Jacob Aaron Estes (Mean Creek) was brought in to revise. Now enters Oscar-winning Goldsman to figure out how to make the story of ghost girl Samara and her haunted videotapes freshly frightening. But despite past acclaim, Goldsman is a curious pick for the project on a couple of fronts.
The first concern is simple: Akiva Goldsman is not known for horror. The closest he's come to it are penning the sci-fi thriller I Am Legend and the religious thriller The Da Vinci Code. Both contain monstrous elements and murder, but neither would be regularly regarded as horror. So fans of The Ring franchise have some reason to worry. Though it seems he's proved his potential already. Recently, Goldsman scored a helming gig from Blumhouse on their upcoming horror pic, Stephanie, which centers on an orphan girl with extraordinary powers who is taken in by a couple claiming to be her parents.
Stephanie will serve as follow-up to the bigger concern of Goldsman's involvement in The Ring franchise. That would be his directorial debut, Winter's Tale, a movie sure to be counted as one of the worst of 2014. After having written such celebrated dramas as a A Time To Kill, Cinderella Man and I, Robot, Goldsman tried his hand at helming his own script and came up with an overwrought fantasy-romance that was a big, fat flop for Warner Bros. The $60 million stinker starred Colin Farrell, Russell Crowe, Jennifer Connelly and Will Smith. And yet it only brought in $30 mil worldwide. It did no better with critics. In our review, I wrote, "It's a movie so flawed and so burdened with heavy self-import that it is sure to be talked about for years, referenced as, 'Well, at least this wasn't as bad as Winter's Tale.'"
Basically, Goldman's attachment to The Ring 3 doesn't seem a good omen to us. But what say you?
This poll is no longer available.
*If you don't understand this, that just means you're one of the billions who didn't see Winter's Tale.
Your Daily Blend of Entertainment News
Staff writer at CinemaBlend.