The Ring 3 Is Still Happening And Now It Has A Director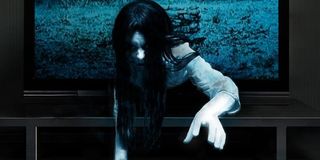 It's been twelve years since The Ring terrorized audiences with its TV-breaching ghoul, and nine since filmmakers double-dipped with The Ring Two. But with horror still killing it at the box office, Paramount is ready to revive this forgotten franchise with The Ring 3. And to prove it, they've hired themselves an up-and-coming director.
THR reports F. Javier Gutierrez has signed on to helm The Ring 3. However, no details are being dropped about when production might begin or even if Paramount has a script in place.
F. Javier Gutierrez is a filmmaker out of Spain who actually earned a law degree before he moved into film school. In 2002, he founded his own production company called DR. T Producciones Cinematograficas. From there he wrote and helmed two short films, "Brazil" and "Diminutos del calvario." In 2008, he made his feature directorial debut with the Spanish crime-drama Before The Fall, which focuses on how humanity deals when they discover a meteorite will shatter the planet in just 72 hours. But if the name F. Javier Gutierrez rings a bell, that's likely because he's been attached to The Crow reboot.
In early 2012, after Juan Carlos Fresnadillo walked from the would-be reboot, Gutierrez took over the helm. He's hung on to The Crow through its flirtation with Tom Hiddleston, its scoring Luke Evans, its gaining the favor of Crow creator James O'Barr, and the subsequent Comic Con appearance last summer. At this time, it's unclear what Gutierrez The Ring 3 gig will mean to The Crow's progress. But he's still said to be attached to direct it.
As for The Ring 3, it's a threequel that Paramount promised back in 2010. Then it was planned to be called The Ring 3D. And it seemed than rather continuing the arc of Naomi Watt's character, the third installment would instead terrorize some teens exclusively. Beyond these old reports, we've go no details on where this sequel to a remake is going to go. A running theme from The Ring to The Ring Two was a cursed VHS tape that brought evil dead girl Samara Morgan into the lives of those who watched it. But with VHS becoming an increasingly obsolete technology, it'll be a bit tricky to make someone casually watching one seem organic, won't it? Is it just me, or is this concept just too out of date to still prove scary?
Staff writer at CinemaBlend.
Your Daily Blend of Entertainment News
Thank you for signing up to CinemaBlend. You will receive a verification email shortly.
There was a problem. Please refresh the page and try again.