Robert Downey Jr. In Blackface For Tropic Thunder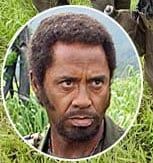 In a surprisingly effective move, it appears that Robert Downey Jr. will play a black man in Ben Stiller's upcoming comedy Tropic Thunder. I say surprisingly effective, because if the article on EW hadn't told me that picture to your right was of a white guy in makeup, I'd have never figured it out myself.
Yes, that is a picture of Robert Downey Jr. in Tropic Thunder, and yes he's in blackface. In the movie, Downey plays an Oscar-winning actor named Kirk Lazarus whose character in the war movie they're making was written as black. So Lazarus decides to play the character, er, as written. As EW rather wisely points out, this could either prove to be pretty funny… or wildly offensive. Of the role Robert Downey says, "If it's done right, it could be the type of role you called Peter Sellers to do 35 years ago. If you don't do it right, we're going to hell." At least he's going into this with his eyes open.
The movie marks Ben Stiller's first directorial effort since Zoolander, and if Downey's makeup is any indication perhaps he's also returning to being the edgy comedic force he used to be known as, before he became known as that guy from all those family friendly romantic comedies. Remember that Ben Stiller? I used to like that Ben Stiller. Maybe he can be funny again. Or maybe he's going to get picketed.
Here's the full Tropic Thudner picture from EW below. To see a bigger version, click over there.
Your Daily Blend of Entertainment News