Robert Downey Jr. Makes A Startling Amount Of Money From Marvel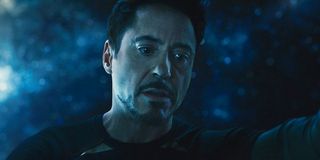 It probably comes to no one's surprise that Marvel is paying its biggest star, Robert Downey Jr., quite the healthy chunk of change. Arguably anchoring what is collectively the industry's most lucrative franchise, The Avengers films and its canon-connected solo outings, his star power is an important attribute. However, it seems that this year, said attribute has yielded the actor $80 million!
The annual list compiled by Forbes of the world's highest paid celebrities has placed Robert Downey Jr. on the number eight spot with his $80 million earnings, which will accumulate higher before the year's end. The payday came about due to boosted backend profits from May's super-sequel, Avengers: Age of Ultron, which currently sits on gross earnings of over $454 million domestic and over $929 million from foreign markets or over $1.3 billion globally. Viewed in that perspective, Downey's $80 million seems like breadcrumbs.
With the criteria for Forbes' list reaching across the globe to include actors, athletes, musicians, writers and even chefs, Downey's firm spot within the top 10 is a significant indicator of his personal status for being an enterprise unto himself. On a lucrative list drastically topped by boxer Floyd Mayweather's $300 million, Downey finds himself sandwiched between prominent earners in author James Patterson, who holds the seven spot at $89 million, and Taylor Swift, who sits at the number nine spot, also with $80 million. Yet, one must wonder how much longer Marvel may want to justify such a powerful payday to one single individual, regardless of his star power, when their big-money franchise has evolved into quite the assembled ensemble.
Joss Whedon's The Avengers yielded over $1.5 billion globally. Bringing critically needed credibility to that experimental crossover, Downey revealed that he was paid somewhere around $50 million for his role. Being the sixth film in the MCU, it was the critical culmination of its Phase One set of films, which served to establish its cinematic heroes. However, this year's feature follow-up, The Avengers: Age of Ultron, arrived at theaters under a drastically different context, with stars like Chris Evans' Captain America, Chris Hemsworth's Thor and even Chris Pratt's Guardians of the Galaxy leader, Star-Lord all now codified in the continuity as solid mainstays. With Benedict Cumberbatch's Doctor Strange, Chadwick Boseman's Black Panther and Tom Holland's Spider-Man soon arriving into the mix, it may be seen as problematic for Marvel to continue to pay one person such so exorbitantly.
Yet, despite hints from Downey in recent years that he's ready to hang up his awesome armor, the finish line does not seem to be in sight. In fact, considering that Downey apparently played such a critical part in the recent selection of the new Spider-Man in the screen test process, it does appear that the long-term future of the MCU is still managing to be shaped by Downey's continuing (albeit expensive) presence. It's an idea that makes sense when one realizes that the money is still flowing at obscene amounts for Marvel at the moment, and any kind of belt-tightening austerity that would see him on the outs is only an irrelevant fantasy. If the MCU ceases to showcase the big-money presence of Robert Downey Jr., it will only be attributed to his own desire to leave the fantastic franchise that revived his career on a high note. That, however, does not seem to be happening anytime soon.
Robert Downey Jr.'s Iron Man will see a friendship with Chris Evans' Captain America devolve into a spectacular, ideologically driven spat when Captain America: Civil War hits theaters on May 6, 2016.
Your Daily Blend of Entertainment News