Robert Downey Jr. Promises A Giant Announcement, Shares Awesome Avengers Image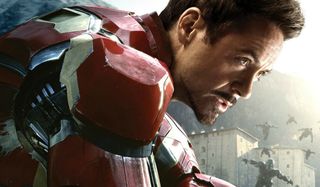 Mark your calendars, Marvel fans. Robert Downey Jr. just teased "a big announcement" that will be landing on Thursday, March 5, and in context, we think it has something to do with the MCU, Iron Man, and points beyond.
Why are we making that leap? Because Downey posted this message on his Facebook page, while also sharing this Iron Man-centric one sheet from The Avengers: Age of Ultron. It's SO much better than the Photoshopped clutter of yesterday's poster. Give it a glance below:
As for Robery Downey Jr.'s reveal, he tells us, "Don't tell 'em I told you…" before dropping the hint that we should all be near our computers in 8 days. What could it mean? Well, the last time that RDJ took to social media to tease fans with some major news, he shared the exclusive trailer for The Judge. And listen, we're not going to fault Downey for having interests outside of the MCU. He put a lot of himself into The Judge, and his co-star, Robert Duvall, earned an Oscar nomination for his role in that drama.
But when you drop a tease like this next to an Iron Man poster, in context, we're going to assume it has something to do with Marvel. Are we right?
What do you think the announcement could be? If I had to put money down on the reveal, I'd say it's tied to Spider-Man casting news. Why? As you likely know, there has been a LOT of speculation lately about the types of actors who are coming in to meet with Marvel and Sony about the suddenly open role of Spider-Man. There has been speculation that the newly acquired hero would make his debut in Captain America: Civil War, and we know that sequel begins filming in April. Heck, maybe its possible they managed to cast a Spider-Man and include him in an end-credits sequence for Age of Ultron?! Yeah, yeah. I know. Unlikely. But fun to think about.
So, stay near your social media one week from tomorrow, and prepare for a (potentially) seismic announcement from the suits at Marvel. Unless Robert Downey Jr. just signed off for The Judge 2. In which case, the collective groan from the Marvel faithful likely will be loud enough to hear from wherever you happen to be sitting.
Movie junkie. Infatuated with comic-book films. ReelBlend cohost. Resident dad. Extroverted introvert. Wants to see the Snyder Cut. Managing Director at CinemaBlend.
Your Daily Blend of Entertainment News
Thank you for signing up to CinemaBlend. You will receive a verification email shortly.
There was a problem. Please refresh the page and try again.