Robert Pattinson To Star In Psychological Thriller Mission: Blacklist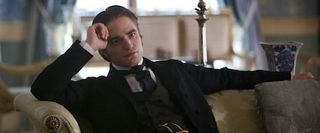 With the feature adaptations of the Twilight series set to wrap up with Breaking Dawn: Part 2 arriving in theaters this fall, Robert Pattinson has already begun to move on to other projects, including the upcoming dramas Bel Ami and Cosmopolis. And now it looks like the British actor is adding a psychological thriller to the list.
According to the Hollywood Reporter, Pattinson has been tapped to star in Mission: Blacklist, a film that tells the true story of the army interrogator who led the capture of Saddam Hussein. Based on Army interrogator Eric Maddox's book (co-written by Davin Seay) Mission: Black List #1: The Inside Story of the Search for Saddam Hussein --- As Told By the Soldier Who Masterminded His Capture, the film's script will be written by Band of Brother's Erick Jendresen, and directed by Jean-Stephane Sauvaire. Per THR, Embankment Films will sell the film at Cannes this year.
Pattinson seems to be focusing on drama, for the most part, with starring roles in films like Water for Elephants and Remember Me, in addition to the Twilight films. But like Cosmopolis, which seems like it might have some thriller elements worked into it, Mission: Blacklist sounds like a noticeable deviation from the more romance-focused dramas we've seen from him, which may be a good thing as far as showing us his range as an actor and broadening his fan base beyond Twilight fanatics.
Your Daily Blend of Entertainment News
Thank you for signing up to CinemaBlend. You will receive a verification email shortly.
There was a problem. Please refresh the page and try again.