Robert Schwentke Up For Helming Disney's Finest Hours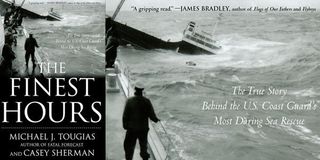 Director Robert Schwentke's filmography thus far has been a mixed bag of hits and misses. But as he readies for the release of his latest, R.I.P.D, Schwentke's setting his sites on what comes next. Deadline reports Schwentke has entered into negotiations with Disney to direct their in-development adaptation of Casey Sherman and Michael J Tougias's novel The Finest Hours: The True Story of the U.S. Coast Guard's Most Daring Sea Rescue. The film's title will be truncated to The Finest Hours, and the feature will focus on a dramatic rescue the Coast Guard attempted in 1952 in hopes of saving the crews of two oil tankers that collided off the coast of Cape Cod during a brutal winter storm.
At this stage in his career, it's difficult to guess if Schwentke is a good fit for this project. Not long after earning praise for his feature debut Tattoo, the German auteur had his shot at Hollywood helming the Jodie Foster-fronted thriller Flightplan. While that film was roundly scorned by critics, it made $223 million worldwide, and led to Schwentke landing his follow-up, the 2009 adaptation of the popular romance novel The Time Traveller's Wife. Once more, critics sneered, but audiences both domestic and international turned out to the tune of $101 million worldwide. Then 2010 brought Schwentke his greatest critical success to date with the Bruce Willis thriller Red, which was likewise bankable—in this case enough so to merit a sequel (though, notably, this it's a sequel that was not helmed by Schwentke).
Personally, I've been underwhelmed by what I've seen of Schwentke's output thus far, and The Finest Hours seems like an ambitious project of scope that will likely be peopled with a plethora of characters. Considering I find The Time Traveler's Wife to be one of the most boring film's in recent history—especially considering how much I enjoyed its book—I don't have much faith in Schwentke pulling this off. But what about you?
This poll is no longer available.
Staff writer at CinemaBlend.
Your Daily Blend of Entertainment News
Thank you for signing up to CinemaBlend. You will receive a verification email shortly.
There was a problem. Please refresh the page and try again.