The Rock Making Two More Journey To The Center Of The Earth Sequels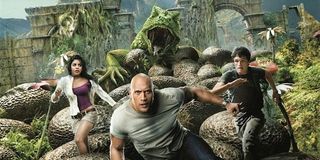 Warner Bros. seems pretty serious about being in the Dwayne Johnson business. The rumors continue to circulate that he's getting involved in the world of DC with Shazam, but he's already attached to a WB franchise. A couple of years ago, he assumed the lead role in Journey 2: The Mysterious Island, bogarting the franchise from Brendan Fraser. Now the studio's interested in making another Journey, but they're going to have to adjust course: it looks like it's going to be TWO more Journeys.
The Hollywood Reporter has announced that Chad and Cary Hayes have been hired to write the third and fourth installments in the Journey series. The Hayes siblings recently earned their reputation from penning The Conjuring. Surely Johnson noticed, as he is starring in their most recent script, San Andreas 3D. The hiring of the Hayes siblings suggests an effort to appeal to Johnson more directly, particularly considering two more movies (apparently being shot back-to-back) is a major commitment for the busy superstar. It also means goodbye to another writing team, Brian and Mark Gunn, who wrote the second film and were previously enlisted to pen part three. What is up with this franchise and brothers?
Journey 2: The Mysterious Island was a surprise hit in 2012, grossing $335 million worldwide. That was higher than the $241 million brought in by the Johnson-less Journey To The Center Of The Earth, which starred Brendan Fraser. Fraser was playing the uncle to Josh Hutcherson's character, while Johnson was the new stepfather – given that Hutcherson will be back for his third go-round, maybe Fraser, who has been out of the spotlight, can return? Surely that would excite someone, right? These movies are pretty popular, but people aren't exactly running around quoting lines of dialogue from the "saga." It's believed that Brad Peyton would return from directing the second one, particularly considering Peyton is also currently directing San Andreas 3D.
Johnson's a hard man to lock up, particularly considering several of the franchises of which he's involved are in flux. Technically he's set to return for G.I. Joe 3, but that remains in the development stage. And there hasn't been a word about spinning off his character from the Fast And Furious movies, despite that being a hot rumor awhile back. THR also reports that he's attached to Seal Team 666, again with the Hayes brothers writing. It might be the case that whomever finishes a script first is going to get him onboard. You're on the clock, Hayes brothers.
Your Daily Blend of Entertainment News