The Rock May Play Sinbad In Arabian Nights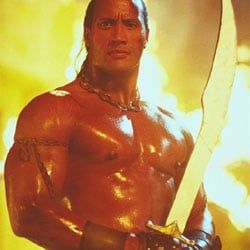 Here's an extremely obvious casting idea: What about Dwayne Johnson as Sinbad? Not the comedian. The other guy, the pirate who had the seven voyages at sea. It might happen in a new version of Arabian Nights being directed by Chuck Russell.
Production Weekly says the man formerly known as The Rock has been "mentioned" (a word they've been using a lot lately but which doesn't really have a whole lot of meaning) for the role of Sinbad in Russell's Arabian Nights. Back in March we learned that Liam Hemsworth had been cast as the film's lead, playing Ali Baba. Anthony Hopkins is also involved somehow.
Arabian Nights is based on the classic collection of Middle Eastern folk tales called One Thousand and One Nights. Those stories include "Aladdin's Wonderful Lamp", "Ali Baba and the Forty Thieves" and "The Seven Voyages of Sinbad the Sailor". They'll mix all of those stories together into one for this new movie, which will have Ali Baba as a young military commander teaming up with Aladdin and Sinbad to rescue Queen Scheherazade. It doesn't make a lot of sense to cast Liam Hemsworth as a Middle Eastern character, but at least if they hire Dwayne Johnson as Sinbad they'll have one token, non-white guy involved which is slightly more credible than Jake Gyllenhaal playing a Persian with a British accent in Prince of Persia.
Chuck Russell has worked with The Rock before. He directed The Scorpion King. After the way that turned out you might think Johnson would be wary of working with him again, but his recent filmography suggests he doesn't really care how bad the movies he does are, as long as he's getting paid. At least The Scorpion King wasn't another babysitting movie.
Your Daily Blend of Entertainment News