Roger Ebert's Pulpy Hollywood Career To Become Its Own Movie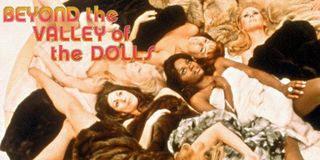 You remember Roger Ebert as the glasses-wearing, incredibly familiar round-face from At The Movies, the guy whose thumb could tell you whether or not to see a movie, the name basically synonymous with "film critic." But Ebert, as was a frequently discussed when he passed away earlier this year, had a long and fascinating career beyond the pages of the Chicago Sun-Times, from writing the screenplay for the classic cult film Beyond the Valley of the Dolls to dating Oprah Winfrey. And while he might have had an Oprah tell-all to share before he died, it's the former that's going to be at the center of the closest thing we may get to a Roger Ebert biopic.
Christopher Cluess, an Emmy-winning writer for Saturday Night Live and The Simpsons, has sold the screenplay Russ & Roger Go Beyond, which chronicles the friendship between Ebert and famous pulp director Russ Meyer as they worked together on Beyond the Valley of the Dolls, the 1970 follow-up to Valley of the Dolls that wound up being more like a parody of the original. When Meyer was given the chance to direct Beyond the Valley of the Dolls, his first studio feature, he recruited Ebert to write the screenplay; at the time Ebert was the third-string critic for the Sun-Times and had given Meyer some of his only good reviews. The two became friends and worked together on several films after Beyond became a hit, all of them with similarly ridiculous titles-- Beneath the Valley of the Ultra-Vixens being easily the best.
Russ and Roger Go Beyond sounds like a David & Goliath story, with Ebert and Meyer fighting to make the pulpy movie they wanted and going up against the studio and the ratings board; think Argo, but all about a soapy melodrama instead of a film intended to rescue Americans from Iran. Even if you know nothing about the actual movie, that's got to be a story you want to see. The script is being produced by Sobini Films, Permut Presentations and Chautaqua Entertainment, and there's no director yet attached, which means we have no idea when we might see the film. But for the millions of people who grew up watching Ebert on television and trusting his opinion, a look into his more scandalous past ought to be an easy sell.
Staff Writer at CinemaBlend
Your Daily Blend of Entertainment News
Thank you for signing up to CinemaBlend. You will receive a verification email shortly.
There was a problem. Please refresh the page and try again.