Roger Ebert, Legendary Film Critic, Dies At 70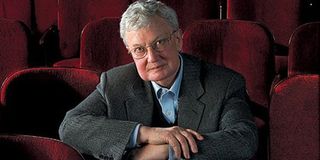 "On this day of reflection I say again, thank you for going on this journey with me. I'll see you at the movies.
Those were the final words Roger Ebert wrote in what became his final post at his indispensable blog for the Chicago Sun-Times, the paper where he worked as a critic for more than 45 years. Today the Sun-Times announced that he passed away at the age of 70, just two day after publicly revealing that cancer had returned to his body, and announcing what he called a "leave of presence" from full-time reviewing.
Ebert was one of the country's most famous film critics, if not the most famous, thanks to the long-running At the Movies, where he and Gene Siskel would banter and fight over the week's releases for decades. The show continued on even after Siskel's death, and even after Ebert's first battle with cancer, which led to the removal of his jaw and rendered him unable to speak. But even when he was no longer a weekly presence on millions of TV sets, Ebert remained vital and perhaps smarter than ever online, maintaining an active Twitter feed and the aforementioned blog, where he wrote weekly reviews and engaged in all kinds of topics that wouldn't cross the minds of many traditional critics. He enraged the Internet when he dared to argue that video games weren't art… but he also kept the conversation going. In his final post, he even dropped this hint: "Gamers beware, I am even thinking about a movie version of a video game or mobile app. Once completed, you can engage me in debate on whether you think it is art."
He remained one of the most important living critics until his final day. He did more than anyone to popularize the art of film criticism, as argued perfectly in this wonderful piece. He is gone far too soon. He will be missed in a way we probably don't even yet understand.
For another excellent piece on Ebert and his incredible flourish on the Internet, read Esquire's profile from 2010.
Staff Writer at CinemaBlend
Your Daily Blend of Entertainment News
Thank you for signing up to CinemaBlend. You will receive a verification email shortly.
There was a problem. Please refresh the page and try again.