The Role John Krasinski Wants To Play In A Marvel Movie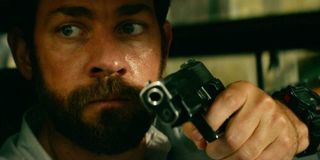 Back in 2010, John Krasinski was one of the final actors to go up for the role of Captain America. In fact, for a long while, The Office star was actually considered the front-runner. That was until Evans entered the fray in the latter stages and beat him to the part. Krasinski might still be holding a grudge against Evans though, because he now admitted that his dream Marvel role would see him playing a villain against Chris Evans' Captain America.
John Krasinski tried to insist to Digital Spy that he didn't mind being beaten to the role of Steve Rogers/Captain America by Chris Evans. However, the below quote suggests otherwise.
But what Marvel villain would John Krasinski be perfect for? Well, as anyone who has seen 13 Hours: The Secret Soldiers Of Benghazi can attest, Krasinski has created quite the impressive physical frame for himself over the last few months. Because of that he could easily fake a Russian accent and play The Red Guardian, who was Soviet Russia's version of Captain America. Sure, the fact that the Cold War finished over 20 years ago means that the inclusion of The Red Guardian might seem a little antiquated, but that doesn't mean that Krasinski wouldn't be sensational in the part.
A character that's more likely to be included in the Marvel movie universe is Flag Smasher, who was the polar opposite of Captain America. Instead of having pride in the good ol' U.S. of A., Flag Smasher, as his name suggests, only wanted to cause anarchy and disruption. It would be a stretch for John Krasinski to do this foe justice though, with his handsome face and wholesome persona. That's why he was perfect for 13 Hours.
Unfortunately, time is running out for John Krasinski to star opposite Chris Evans' Captain America in the Marvel universe. We'd have probably heard by now if the 36-year-old had shot a role in Civil War. Also, the fact that Martin Freeman, who played the U.K. version of Jim Halpert in the original version of The Office, is already in the blockbuster might just prove too much for fans of both incarnations of the show to handle.
If Captain America survives Civil War, then, realistically, Chris Evans' final Marvel roles will likely be in Avengers: Infinity War – Part 1 and Part 2. That's when Josh Brolin's Thanos is set to dominate the villainy, so maybe John Krasinski can play his snarky minion. That would be perfect.
Your Daily Blend of Entertainment News