Romola Garai Is The Other Woman In Lone Scherfig's One Day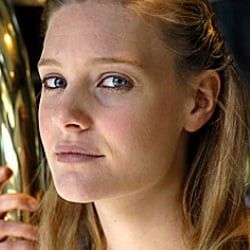 I'm not sure if "excited" even begins to cover the way I feel about One Day, the next film from An Education director Lone Scherfig that stars Anne Hathaway and Jim Sturgess as two people who meet for one day every year over the course of 20 years, until they finally realize, of course, that they're meant for each other. It has the feel of a typical romantic comedy, but Scherfig isn't really a typical director, and Hathaway and Sturgess feel like they might really have the potential to make a rom-com couple you're actually rooting for.
But if you're going to have a made for-each other pair who can't be together, you've got to have someone to come between them, and that's where Romola Garai comes in. THR reports that she'll play the woman who Sturgess's character marries, a female version of the old Ralph Bellamy type who is perfectly nice but ultimately not right for the central character. With production going on in London this summer, and Sturgess and Garai both being British, Hathaway will be the odd American out. In the original novel by David Nicholls the character is British, so we may be seeing some accent work from the girl who became famous as an American princess.
Your Daily Blend of Entertainment News
Staff Writer at CinemaBlend