Rosamund Pike Up To Play Emma Frost In X-Men: First Class?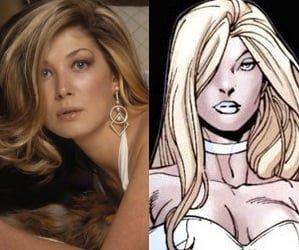 With a British director on board and at least one British actor (and maybe two) starring, it's no surprise to hear yet another English name rumored for a role in X-Men: First Class. According to Forces of Geek and a source they trust, Rosamund Pike has met with Matthew Vaughn about potentially playing Emma Frost in the X-Men origin story.
Pike would be joining James McAvoy (as Professor X) and possibly Michael Fassbender (as Magneto) in the film, which has a release date of June 3, 2011 and therefore needs to start filming really, really soon. Forces of Geek's source has no idea how close Vaughn might be to casting Pike or anyone else in the role, nor is there info on how big a role Frost might play in the origin story about Professor X and Magneto founding the school for young mutants. You may remember the character showed up briefly near the end of X-Men Origins: Wolverine, so the character may play a key role in tying all these X-Men universes together. Pike isn't exactly a major star, but with substantial roles in Pride & Prejudice, An Education and even the dismal Surrogates, she's too big to be signing on for just a bit part. If she takes the role, it seems fair to expect some serious action from Emma Frost coming up.
Your Daily Blend of Entertainment News
Staff Writer at CinemaBlend