Rosie Huntington-Whiteley Is Not Replacing Megan Fox In Transformers 3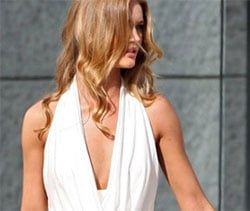 Everyone keeps referring to Rosie Huntington-Whiteley as Megan Fox's replacement, but of course, she's not. Rosie's not playing Megan Fox's Mikaela Banes character, rather Mikaela simply won't show up in Transformers 3 at all.
For the first time we have some confirmation of just who Rosie will be playing in the movie. According to TFW 2005 it's someone named "Carly". Who is Carly? No idea, but she's definitely not Mikaela.
In other Transformers 3 news, Josh Duhamel is still in these movies. I know, nobody noticed him in the first two, but he's hanging around for another one anyway. The first photos of Duhamel and Tyrese in their full Transformers 3 getup have surfaced at Faded Youth. Here's a few of those:
Your Daily Blend of Entertainment News
Thank you for signing up to CinemaBlend. You will receive a verification email shortly.
There was a problem. Please refresh the page and try again.