This Rotten Week: Predicting Dirty Grandpa, The Boy And The 5th Wave Reviews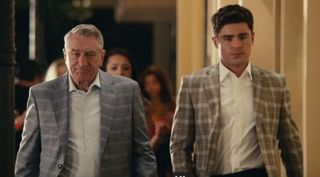 We're getting deeper and deeper into the year 2016, and we've got three flicks coming your way this week. Get ready for Dirty Grandpa, Boy and The 5th Wave.
Just remember, I'm not reviewing these movies, but rather predicting where they'll end up on the Tomatometer. Let's take a look at This Rotten Week has to offer.
Rotten Watch Prediction
Neither of my grandpas are alive anymore, but if they were and we took a road trip together? It wouldn't look like Dirty Grandpa. No, it would have been a lot of crossword puzzles, loafers, stories about World War II, complaints about the how cold the car was and some more stories about World War II when the conversation started to dry up. A far cry from what we are looking at here. See a very different road trip in the trailer for Dirty Grandpa:
This flick looks like a good example of what happens when a potentially funny concept is delivered by a couple of dudes who might come close to the mark in the comedy department, but not close enough. Zac Efron and Robert De Niro as kid and grandpa will possibly have its moments, though I suspect there will be a bunch of missed opportunities. The trailer looks like as much. A mash up of obvious Spring Break jokes as we work really hard to believe Efron as the straight-laced, yuppity type is just a little of the stretch we're working with here.
Again, this trailer has its moments. Most notably, Aubrey Plaza looks like she nails it as the older man-seeking nympho. But the rest? It looks borderline at best and cringe-worthy at worst. Just too many cliches packed into too small a time frame. We've been down the road debaucherous tour taken by the unsuspecting. These aren't the guys to pull it off.
Directed by Dan Mazer, who has a pretty hilarious record directing some of Da Ali G Show and the quasi-miss I Give it A Year (55%), will miss the mark with this one. It just appears too forced even with the stronger cast.
Rotten Watch Prediction
In the first wave I was bored. In the second wave I thought about turning the trailer off. In the third wave it started to look unintentionally funny. In the fourth wave I began wondering if the flick would finish under 10%. And just when I didn't think I could take any more waves, well you get the drift. Check out the alien invasion in the trailer for The 5th Wave:
Based on the young adult novel of the same name, The 5th Wave tells the story of Cassie Sullivan (Chloe Grace Moretz) as she navigates a world that's been decimated by aliens. Personally, I've never understood the stories in which alien races comes to Earth simply to destroy it. Seems like a colossal waste of time from an obviously superior race. But I digress.
Some early reviews confirm what seemed more than apparent in the trailer: the movie looks pretty bad. Words like "leaden" and "generic" are just a couple of adjectives used to describe the script, a love story set against the backdrop of aliens turning the human race back a few hundred years in the technology department.
J Blakeson directs his first big budget film and unfortunately the critics won't put a positive seal on it. If the reviews continue in this vein, we'll be looking at score in the teens (appropriate) or maybe even lower. What a shame. But hey, if you are going to give me wave after wave of nothing then critics can't get on board.
Rotten Watch Prediction
Little Rotten Week has this doll laying around the house, so I think I know a little bit of something about getting creeped out by crap like this. That being said, there's a next level of fucked up when a nanny shows up to a house and some parents insist on taking care of doll like it's a real kid. That alone could have been the whole horror movie. Forget the other stuff.
Take a look at the babysitting gig from hell in the trailer for The Boy:
I was sufficiently creeped out when the parents moved aside and revealed to Lauren Cohan a pasty doll instead of a real kid. Conceptually, giving new life to the Chucky-themed horror film by making a doll evil incarnate isn't the worst idea in the world. It lends itself to a fair amount of willies given that dolls, in and among themselves, are suspicious. That this doll wouldn't mind killing you if his "rules for care" aren't met, well that sure does step things up a bit.
My big problem with movies like this are they force you to suspend disbelief in so much as the babysitter would have left probably the first time the doll moved on its own. Playing out the string to it's not-so-logical deadly conclusion is almost as farfetched as the doll being an actual murderer. No rational human is sticking around the second things take a turn for the worst. It just makes no sense.
Stay Alive (9%) and The Devil Inside (6%). It's tough to imagine this latest finishing much higher than those films. Once the initial shock of the bad baby wears off I suspect you are left with just waiting until the dummy babysitter wakes up enough to get the hell out of the house.

This poll is no longer available.

Last week was certainly a weird one. I only hit on one of the three movies, and was legitimately surprised about the other two. First the win with Ride Along 2 (Predicted: 19% Actual: 15%). It finished right in line with the first one (18%) and didn't look like it was going to offer much more. And that prediction proved correct. Most critics considered it a retread of the first one and nothing more. No value add and no real additional laughs. All of the beats were the same with Cube and Hart playing the same cliches and getting paid.
Meanwhile, 13 Hours: The Secret Soldiers of Benghazi (Predicted: 35% Actual: 60%) was a surprise to me. For starters, this the first Michael Bay-directed (or anything-ed) movie that's finished with a score above 50% since The Rock. That's a long run of critical disappointment. But this story of the soldiers in Benghazi hit the mark with critics who, for the most part, took to the story.
And finally, Norm of the North (Predicted: 38% Actual: 0%). Woof. A zero is really something for any movie, but especially an animated one. Animated movies are so vanilla that even when they are bad, critics can be convinced to give them some type of pass because "the kids" and all. But not Norm and company. No sir. Critics panned the hell out of it and through 33 reviews there hasn't been a nice word said.
Next time around it's Fifty Shades of Black, Jane Got a Gun, The Finest Hours and Kung Fu Panda 3. It's gonna be a Rotten Week!
Your Daily Blend of Entertainment News
Doug began writing for CinemaBlend back when Terminator: The Sarah Connor Chronicles actually existed. Since then he's been writing This Rotten Week, predicting RottenTomatoes scores for movies you don't even remember for the better part of a decade. He can be found re-watching The Office for the infinity time.