This Rotten Week: Predicting Exodus: Gods And Kings And Top Five Reviews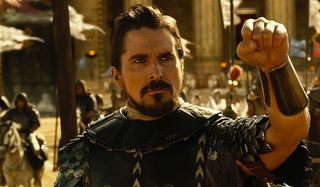 Getting into the holiday movie season typically means a plethora of flicks to choose from. Big budget films, pet projects, star turns and everything in between. This is a solid time of year to hit theaters. Not that everything coming out is great (see below), but the variety is there. This week we've got Moses and Chris Rock.
Just remember, I'm not reviewing these movies, but rather predicting where they'll end up on the Tomatometer. Let's take a look at what This Rotten Week has to offer.
Rotten Watch Prediction
Nothing says "Ancient Egypt" quite like a bunch of dirtied-up white guys running around the desert speaking and yelling in English with a modern rock soundtrack playing in the background. I'm not typically a stickler for things like "accuracy," but this one just feels way, way, way off. It could be Christian Bale as Moses failing to hit the biblical imagery I've held for years up in my own cranium. Or it could be the culturally indecisive look of the rest of the cast. I'm not sure. What I do know is that there's going to be a viewer gap in this film. And it's started already.
Check out part of what I mean the trailer for Exodus: Gods and Kings
I suppose there are certain stories we have almost fully formulated in our imaginations. The story of Moses is one of them. It's not that I'm a religious nut who's going to poke holes in the Biblical accuracy of the film, but I find it hard to believe many people at all will walk out of the theaters with any real insight into Moses' story after seeing this film. (Or be able to get over that he isn't a white-haired guy in a robe holding a staff). This film really just looks like Gladiator with a few more plagues and natural disasters thrown in. Frankly, it looks ridiculous.
It stands to reason that director Ridley Scott has a "thing" with trying to make the past way more bad-ass than it probably was. He's handled historical stuff, making it shoot for the big screen and had success with Gladiator (76%) and, uh not so much with Robin Hood (43%) and Kingdom of Heaven (39%). Sometimes the epic historical drama works. And, as appears to be the case with Exodus, sometimes it doesn't.
Ridley Scott has a bunch of great movies under his belt, but his fastball might be losing an mph or two down the stretch. Critics are panning this latest with words like "mediocre" and "boring." It's sitting below 50% now, and I bet it doesn't crest over that mark. Independent of some controversy about the less-than-accurate casting, the movie appears a retread, coming up with nothing particularly new.
Rotten Watch Prediction
I've long complained (to no one in particular) that no other comedian has a bigger quality gap between his on-stage stand up performance to his on-screen performance than Chris Rock. On stage, the guy's a natural, flowing and biting, and of course one of the best ever. That isn't going out on a limb by any means. Just fact. His turns in movies, however, have often been stiff and disjointed at best, unwatchable at worst. It never made total sense to me how some of that vibe he had in his standup wouldn't carry over even in the slightest to the big screen. It appears Rock himself has thought much the same thing and has made a movie finally dispelling the idea that he can't put it all together in a feature. This looks like the Chris Rock we've been waiting for.
Check out the trailer for Top Five
In a movie he wrote, directed and stars in, Rock plays basically himself as a dude who's been recognized for being the funniest man alive for a time but struggled to find the same comedic voice on the big screen (this film has him having played a fast-talking grizzly bear cop called "Hammie". This alone had me cracking up in the trailer). Rock's voice comes through even in the snippets here, and while it still doesn't seem like he's 100% comfortable on this side of the camera, this appears as close as he'll get to crossing over his brand of funny into a flick.
Early reviews have been glowing, with the movie sitting at 87% through fifteen reviews. Remember, this is a guy who is part of both Grown Ups movies (10% and 7%) as well as pieces of meh like Death at a Funeral (41%). Where those films had Chris Rock almost apologetically handling business and getting the hell out, this one he took full control. Rock also did himself a favor by pulling together an all-star cast. Rosario Dawson and Gabrielle Union play major roles while a whole host of others (Tracy Morgan, Adam Sandler, Whoopi Goldberg to name a few) round things out for a guy I'm sure they respect the hell out of (and might even owe a movie favor or two).
If you can't tell, I'm excited about this movie. As a big fan of Rock, I've wanted him to do something like this for a while. He finally seems to have rounded the comedic corner in film. Kudos.

This poll is no longer available.

There was only one movie given a wide release last week, and that movie was The Pyramid (Predicted: 23% Actual: 8%). This was another situation where I just knew the film would be awful and hedged away just enough so as to not throw it completely in the basement. This, it turns out, was a mistake. Critics (the very few who made an effort to go out and see it) crushed it to smithereens. This found footage film has one of the lowest Tomatometer scores of 2014. Finishing in the single digits is no easy feat, and I often think a film has to actually try to be this bad when it sinks this far into the basement. How else could it get through all machinations needed to hit theaters and still suck to high heaven? It's just another in a long line of setting-specific horror films that appear to have come up with a title and place to film before actually hammering things like "story" or "characters". Alas, it won't be the last one of these we see. They come out all the time. I don't get it.
Next time around is a big one with hobbits, orphans and another night at the museum. It's going to be a Rotten Week!
Your Daily Blend of Entertainment News
Doug began writing for CinemaBlend back when Terminator: The Sarah Connor Chronicles actually existed. Since then he's been writing This Rotten Week, predicting RottenTomatoes scores for movies you don't even remember for the better part of a decade. He can be found re-watching The Office for the infinity time.