This Rotten Week: Predicting The Expendables 3, Let's Be Cops And The Giver Reviews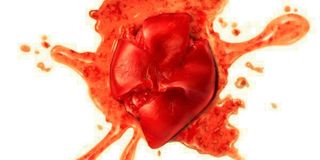 I'm a bit down in the dumps. Why? I'm now 36 hours removed from an ER visit after breaking my ankle while fighting crime (falling off a ladder). But I know something that can start the healing process! Talking about a few movies ought to do the trick. This week we get expendable, give, and become cops. And all the while I get to take my mind off a non-displaced fracture to the left fibula.
Just remember, I'm not reviewing these movies, but rather predicting where they'll end up on the Tomatometer. Let's take a look at what This Rotten Week has to offer.
Rotten Watch Prediction
I have a feeling the storyboarding and "creative" process for The Expendables films more resembles what it was like when I packed up the Uhaul while moving out of my house. I wasn't going for artistic aesthetic, but rather working to cram as much of my shit as possible into a small space. Come hell or high water, all of my stuff was getting in that thing. These movies are driven by the idea of, "Who cares what happens, just make sure everyone fits!"
See how they pack it all on screen in the trailer for The Expendables 3:
If you are a somewhat legitimate actor in Hollywood and haven't gotten the call to be in The Expendables franchise yet, you are firing your agent, no? This trilogy of movies has seen to it that every dude who's ever appeared in anything remotely resembling an action movie has scored at least a bit part. If you are Ted Danson or Tommy Lee Jones, you're just a little annoyed at this point, right? This seems the equivalent of not getting the rush call to the fraternity. Kelsey Freaking Grammar made the cut.
This franchise is what it is. It appears to know its lane (though it shot for a PG-13 rating this time around), and seeks to capitalize on every action movie cliche with super star-power behind it. But what started as a novel idea may have run its course. The franchise has scored around a half billion dollars in box office moola while varying in critical opinion. The Expendables came in at 41% while The Expendables 2 outperformed most expectations with a score of 65%. This latest is coming in flat with early reviews, the movie currently sitting in the mid-thirties. Considering the most positive reviews typically come in first, I can't imagine we see much of a surge over the course of the week. It may hold steady, but I feel like that's a best case scenario. Now, let's cut to Val Kilmer getting in shape hoping he can make it into The Expendables 4.
Rotten Watch Prediction
If I were in a buddy cop scenario – teaming up with a pal of mine for a little officer of the law hijinks replete with angry perps, hilarious house calls, pulling out our guns at inopportune times and just generally making a mockery of the whole cop culture – my choice would be easy: my buddy Rico. He's a real cop and would know all the right things to do, and correct protocols. He'd be super safe with the weapons and would understand certain procedural components of the job that I couldn't ever know. Get it? It would be hilarious. Super by-the-books and hilarious.
These other guys have a slightly different idea in the trailer for Let's Be Cops:
Buddy cop films are nothing new, and films in which dudes (or women, though it's more rare) pretend to be police officers for the sake of comedic effect have been around awhile. This one doesn't look particularly ground-breaking though I suspect it has its moments. With Damon Wayans Jr. and Jake Johnson (loved him in Drinking Buddies) posing as police officers after a costume party, I think there's a chance for a bunch of cheap laughs. As a complete film? Not so sure about that.
Director Luke Greenfield had some (relative) success with The Girl Next Door (55%), but suffered with a sizeable miss in Something Borrowed (15%). My guess is his latest will fall somewhere in between those two. There were too many funny moments in the trailer for it to completely bomb, and the storyline is safe enough that it'd be tough to totally whiff in that regard. The whole thing will fall on the shoulders of the two leads with the hope they can carry a full film on their comedic chops. I think they get most of the way there. But it won't be anything close to what Rico and I could do: filling out paperwork and monitoring construction sites.
Rotten Watch Prediction
h
Around my family and friends, I'm often referred to as "The Giver". It's a nickname picked up over the years from giving those around me endless amounts of grief, unsolicited advice, and hard times. This is what happens when you know more than those around you. You're forced to impart this wisdom and know-how without prejudice. I'm a Giver for sure. It's more of a curse than a blessing, really.
See Lois Lowry's vision of this moniker in the trailer for The Giver,
The Giver is set in a futuristic, dystopian world with resounding order and balance and without any kind of color at all. Think Pleasantville without the aw-shucks to it. This homogeny is brought about by crazy government control (libertarians revolt!) and eliminates people's enjoyment of everything from music to color itself. This story has sci-fi bent to it that I don't completely remember from reading the book, though I might be holding more on to The Messenger's forest theme.
This flick appears solid and safe. Meant for the young adult demographic, it looks to fall in line with the The Hunger Games, Divergent, Fault in Our Stars crowd that never really goes out of style. There is a talented cast involved and director Phillip Noyce has had critical success in the past with both Salt (62%) and Catch a Fire (75%)
Expect this film to fall within range of Noyce's previous work and set the stage for The Messenger, which I imagine won't be too far behind this one if tweens come out in force to see the book their sixth grade English teachers made them read.

This poll is no longer available.

What a week! Three out of four money predictions.
Took a fair amount of heat regarding my write-up for Teenage Mutant Ninja Turtles (Predicted: 28% Actual: 19%). But I have thick skin (not unlike a turtle), and can take it from those who have an unending (and somewhat confusing) love of all things TMNT. Regardless, my prediction was a winner and everyone comes out on top because the TMNT fans came out in droves for a flick the critics panned.
Meanwhile, Into the Storm (Predicted: 22% Actual: 21%) was a near dead-on ringer. I'm still hoping for just one more negative review like our own Kristy Puchko's, who gave the movie one star out of five and summed up the movie as such: "The film has open and obvious disdain for anyone unfortunate enough to watch it." There you have it. Tornadoes are still hot though. Predicting we see a lot more of them as the go-to, trendy storm.
Step Up: All In (Predicted: 50% Actual: 43%) was another win keeping it a strong week. Had a little head start on this one which helped. We'll take it.
And finally, The One Hundred-Foot Journey (Predicted: 45% Actual: 64%) scored a little higher than I thought. Some early reviews had me thinking this was going to trend negative over the long haul, but no. I take solace in knowing everyone will have completely forgotten about this flick every existing by Labor Day.
Next time around we head back to Sin City, think about staying and stand tall. It's going to be a Rotten Week!
Doug began writing for CinemaBlend back when Terminator: The Sarah Connor Chronicles actually existed. Since then he's been writing This Rotten Week, predicting RottenTomatoes scores for movies you don't even remember for the better part of a decade. He can be found re-watching The Office for the infinity time.
Your Daily Blend of Entertainment News
Thank you for signing up to CinemaBlend. You will receive a verification email shortly.
There was a problem. Please refresh the page and try again.