This Rotten Week: Predicting Hunger Games: Mockingjay, The Night Before Reviews, And More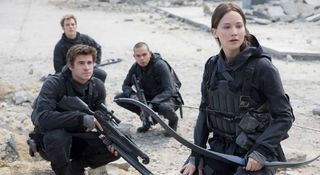 Whew, we have a big one going this week. Katniss is back to finish the job, some eyes have secrets and bros do the holidays right. Get ready for The Hunger Games: The Mockingjay Part 2, The Secret in Their Eyes and The Night Before.
Just remember, I'm not reviewing these movies, but rather predicting where they'll end up on the Tomatometer. Let's take a look at This Rotten Week has to offer.
Rotten Watch Prediction
Oh Katniss, my Katniss. I'd follow you to The Capitol, to the brink of destruction, the end of the world and back. That's the kind of devotion I have to your cause. Oh and you resemble Jennifer Lawrence? Even better. Katniss is a hero's hero. Powerful yet flawed. Headstrong but scared. She's just the right kind of protagonist. And it's been a long time coming, but The Hunger Games is finally drawing to a bloody conclusion.
See how it all concludes in the trailer for The Hunger Games: Mockingjay-Part 2 below:
The final installment of The Hunger Games series pits Katniss and crew against President Snow and powerful members of The Capitol as they march in toward revolution. The flick is set around Katniss Everdeen leading a small group of fighters through a maze of traps similar to what they encountered in the arena.
To be honest, I didn't love the third book in this series. Vilify me if you will, but thought it was too divergent from the first two books and a bit ridiculous in its conclusion. That's really only comparing it to the first two books (which were legit great) and I loved the series as a whole. But whatever misgivings I had about the final chapters of Mockingjay appear to not be an issue in the final movie. In fact, this thing looks spectacular. The imagery, action, plot lines and just about everything in between come off as a fantastic summation of the phenomenal series. And they might play out better on screen than they did in the book which I thought struggled to encapsulate the enormity of the situation.
Francis Lawrence directs this film after helming The Hunger Games: Mockingjay - Part One (65%), The Hunger Games: Catching Fire (89%) as well as I Am Legend (70%). Early reviews on this one have it in the mid-80's, with many critics agreeing the final act is pervasively dark, but gripping. That follows much of the book's path and makes sense for the series as a whole. The Hunger Games hasn't had any of the feel good elements of some other YA fantasy lit. The critics who went negative cited the tone as the problem, but that isn't the movie's "fault" as much as the source material. All things considered, this looks like a well-received finale for Katniss.
Rotten Watch Prediction
When I first heard the title of The Secret In Their Eyes, I was convinced it would be a low-level horror film about a haunted something or other. It just sounded like there would be a boogeyman popping out of the woodwork and scaring the ever-living piss out of me. Nope, instead it's an action thriller with an award-winning cast to boot.
See some dark crime go down in the trailer for The Secret in Their Eyes below:
Nicole Kidman, Julia Roberts and Chiwetel Ejiofor round out the best looking FBI district office you've ever seen in what appears a total nail-biter of a flick. When Roberts' daughter is murdered, everything is torn apart and the movie follows the trios' relationship as they work for over a decade to bring the killer to justice, even as it causes a wedge with them as a unit.
I probably wouldn't have ever considered Roberts as the FBI type, though I'm also fully confident that as an actress she can pull off just about anything. And this flick looks pretty damn good. The cast is tight, the intrigue thickening. It's adapted from the 2009 Argentinian movie of the same name. That film won a foreign language Oscar. This one won't reach those heights, but it should finish well with critics.
Director Billy Ray's been part of some pretty intense movies, whether on the directing or writing end of things. He penned Captain Phillips (93%) , The Hunger Games (84%) and Source Code (92%), which all brought the suspense. Plus he directed Breach (84%). This newest looks like it really brings it as well and I hope I get pump-faked a little more in the future with the cheesy horror flick being an actual, honest-to-goodness cool movie.
Rotten Watch Prediction
Last week I talked a little bit about how the "Family Holiday Comedy" was a played out genre, having been done a bunch of times over with diminishing results. Love the Coopers (which I'll get into later with my recap from last week) was predictably a mess because the ideas of the "crazy family getting together for Christmas" is just kind of dumb at this point. But leave it to Seth Rogen and company to take the idea and flip it up a little into something real adults would want to watch. Or at least immature ones like yours truly.
See some Christmas "spirit" in the trailer for The Night Before below:
Oh thank goodness for this. The Night Before looks like it's going for a kind of National Lampoon's Christmas Vacation vibe – taking the inanity of the holidays and made a mockery of the pomp and circumstance. Obviously it's R-rated and involves the Seth Rogen/Evan Goldberg approach to adulthood (which usually involves debauchery), but this flick looks hilarious in its approach. They've done it before with Knocked Up and Neighbors, exploring the reluctant move to adulthood. This looks up the same alley.
Joseph Gordon-Levitt, Seth Rogen and Anthony Mackie get together for a final Christmas Eve together in an escalating sequence of nonsense and debauchery. These kinds of films can go one of two ways. They can get real dumb real quick, or they can get real dumb and real funny real quick. It's almost always going to be dumb, but that doesn't predetermine its destiny. Dumb gets laughs when the players are right and the story hits on some key notes.
Considering the acting team involved here and the presence of writer/director Jonathan Levine (50/50 - 94%, Warm Bodies - 81% ) this latest should garner a fair amount of laughs. It may be pandering to the lowest common denominator on the way, but still with a little merit. The Night Before won't finish at the top of the critical mountain, but I suspect is funny enough to finish positive.

This poll is no longer available.

I was very close to a strong week last time around, though there were little misses here and there. First off, The 33 (Predicted: 39% Actual: 40%) was a win. I had some early reviews setting the tone of the score, making the prediction just that much easier. The story of the Chilean miners trapped and ultimate rescue fell flat with critics, as they thought the movie was over-done and yet without any real stakes. That's tough considering you had a group of dudes trapped under a million tons of rock with little supplies to keep them alive. And yet the film didn't really get there, and the score reflected a lot of disappointment.
Meanwhile, I knew Love the Coopers (Predicted: 35% Actual: 16%) looked like garbage, and just didn't pop the score low enough. Critics slammed this flick, which appeared a ton of holiday movie cliches thrown together under the guise of a great cast and marketed as a seasonal comedy. But man did it ever bomb. It's always a bad sign when a comedy has few laughs even in the trailer, where the filmmakers are putting their best funny foot forward. The sneak peek looked bad and the flick followed suit.
And finally, My All American (Predicted: 47% Actual: 33%) was another blah film hitting the screen. I thought it appeared too low-stakes, apple pie and vanilla ice cream safe to ever really score well with critics. The only reason I bumped the prediction a little higher because director Angelo Pizzo's other work included Hoosiers and Rudy. I gave him the benefit of the doubt because I love those films, especially the former. But this one didn't get there.
Next time around we've just got another big one with The Good Dinosaur, Victor Frankenstein and Creed. It's gonna be a Rotten Week!
Your Daily Blend of Entertainment News
Doug began writing for CinemaBlend back when Terminator: The Sarah Connor Chronicles actually existed. Since then he's been writing This Rotten Week, predicting RottenTomatoes scores for movies you don't even remember for the better part of a decade. He can be found re-watching The Office for the infinity time.
Your Daily Blend of Entertainment News
Thank you for signing up to CinemaBlend. You will receive a verification email shortly.
There was a problem. Please refresh the page and try again.